Your wedding day is a once-in-a-lifetime event, and choosing the perfect venue is one of the most crucial decisions you'll make. South Delhi, with its blend of modernity and tradition, offers a plethora of stunning wedding venues that cater to every taste and style. From regal banquet halls to lush garden settings, South Delhi has it all.
In this blog, we'll take you on a virtual tour of some of the best wedding venues in South Delhi, each with its unique charm and character. Whether you envision an opulent, grand affair or an intimate, romantic gathering, these venues have the potential to turn your wedding dreams into reality.
The Grandeur at The Taj Mahal Hotel
The Taj Mahal Hotel in Chanakyapuri exudes timeless elegance and luxury. The Grandeur, one of its banquet halls, is a vision of opulence, featuring intricate chandeliers, rich upholstery, and impeccable service. With a capacity to host up to 500 guests, it's an ideal choice for large gatherings.
The hotel's beautifully landscaped gardens, with a stunning view of the iconic India Gate, are perfect for outdoor ceremonies and receptions. The Taj's commitment to culinary excellence ensures a gastronomic experience that your guests will cherish. Whether it's a grand Indian wedding or an elegant cocktail soirée, The Taj Mahal Hotel is a venue that promises an unforgettable celebration.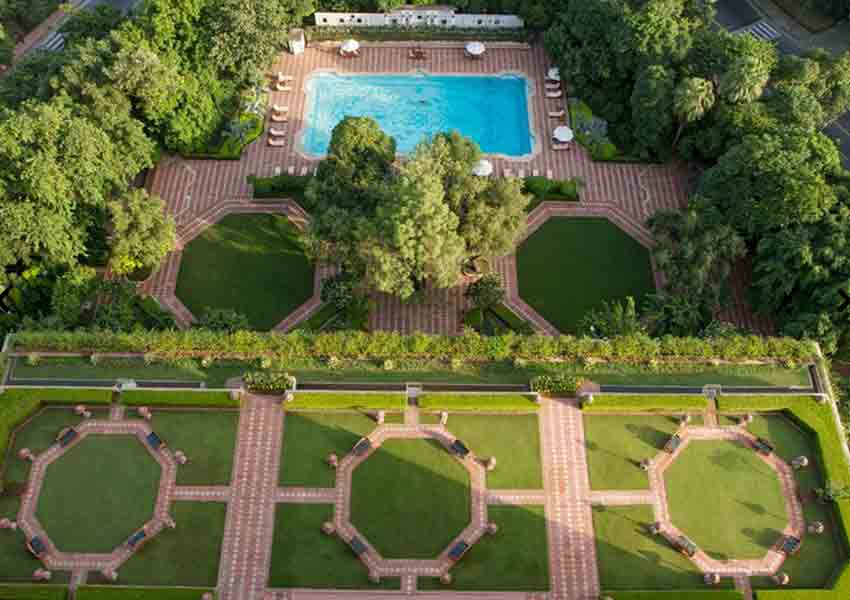 The Roseate
For couples seeking a tranquil and nature-inspired setting, The Roseate in Samalkha, South Delhi, is a hidden gem. Nestled amidst lush greenery and water bodies, this boutique hotel offers a serene and picturesque backdrop for your special day.
The Roseate boasts multiple indoor and outdoor venues, including a floating stage surrounded by water, which adds a touch of magic to your wedding. The Zen-like ambiance and the hotel's commitment to sustainability make it a unique choice. Whether you're planning a daytime garden wedding or an evening affair under the starlit sky, The Roseate promises an intimate and enchanting experience.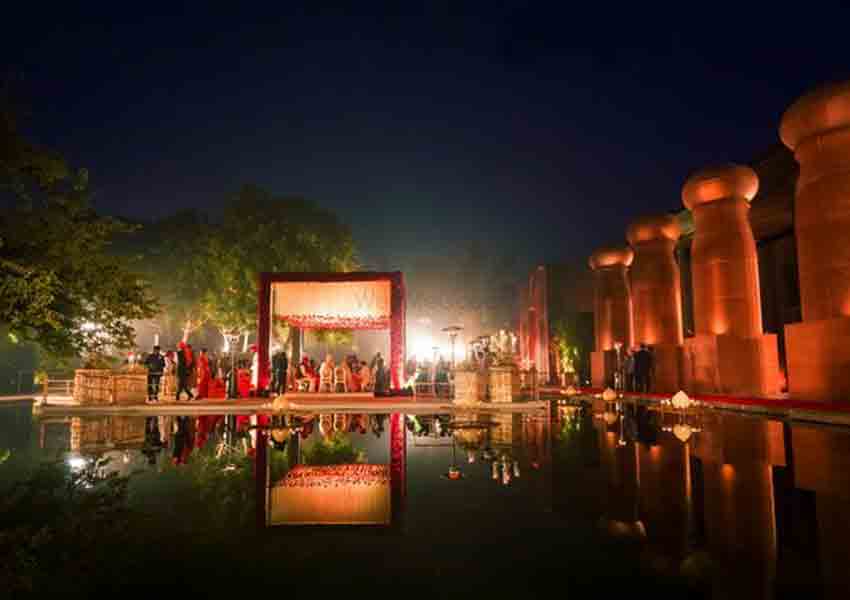 The Manor
For those who appreciate understated elegance and heritage charm, The Manor in Friends Colony is an excellent choice. This boutique hotel is known for its warm hospitality and impeccable attention to detail.
The beautifully landscaped courtyard at The Manor is a coveted spot for outdoor weddings, while the elegant indoor banquet hall exudes old-world charm. The venue's culinary team crafts bespoke menus to cater to diverse tastes and dietary preferences. With a capacity to accommodate up to 300 guests, The Manor is perfect for intimate weddings with a touch of vintage allure.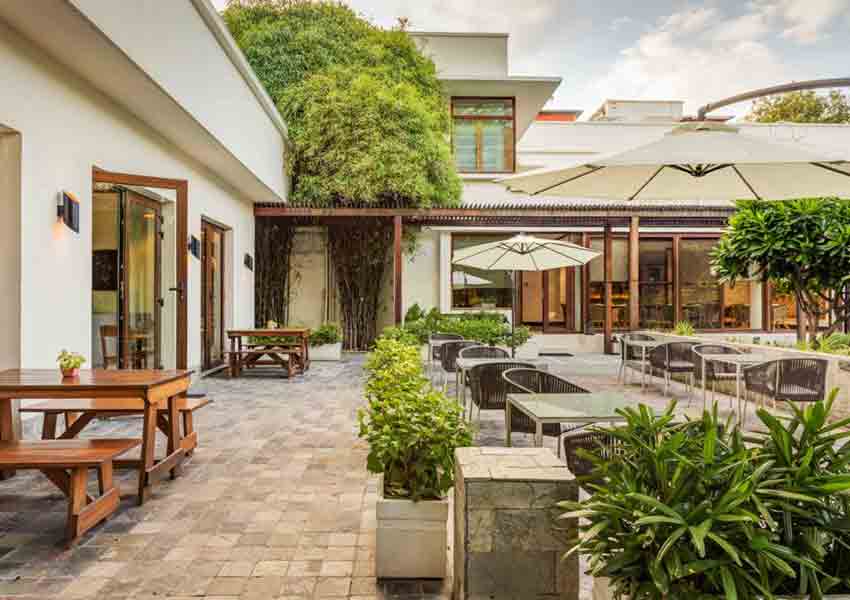 Tivoli Garden Resort Hotel
Tivoli Garden Resort Hotel in Chattarpur is a sprawling oasis of greenery and luxury, making it a popular choice for grand weddings. The resort's lush gardens, adorned with exotic flowers and water features, create a magical atmosphere for your special day.
Tivoli Garden offers a variety of event spaces, including grand banquet halls and beautiful outdoor lawns, allowing you to customize your wedding experience. The venue's experienced team can handle every aspect of your wedding, from decor to entertainment, ensuring a stress-free celebration. If you dream of a lavish, fairy-tale wedding in a verdant setting, Tivoli Garden Resort Hotel is an excellent choice.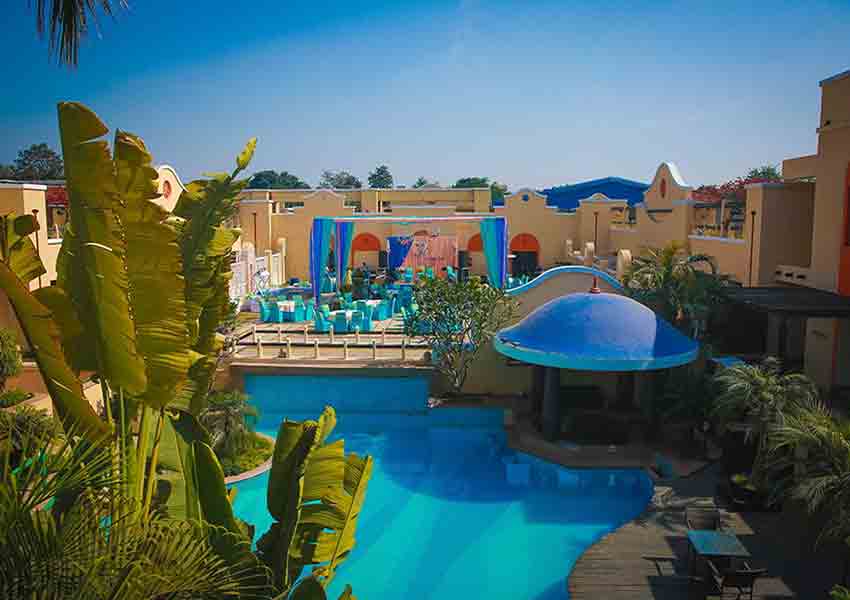 The Leela Palace
The Leela Palace, located in Chanakyapuri, is the epitome of luxury and sophistication. This grand hotel offers a majestic setting for couples who desire a royal wedding experience.
The Leela Palace's banquet halls are adorned with intricate artwork and opulent chandeliers, creating a regal ambiance. The hotel's dedicated team of event planners and chefs work closely with you to curate a bespoke wedding, from menu selection to decor. With the capacity to host both large and intimate gatherings, The Leela Palace is perfect for couples who want their wedding to be a grand affair filled with elegance and grandeur.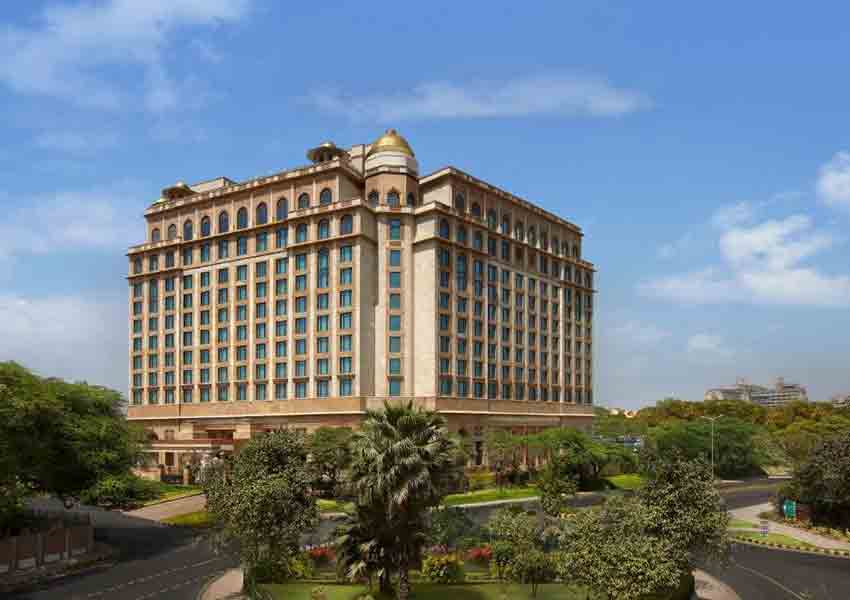 The Suryaa
The Suryaa, nestled in the heart of South Delhi, stands as an exquisite and opulent choice for couples seeking a wedding venue that radiates luxury and sophistication. With its world-class amenities and breathtaking ambiance, The Suryaa offers an array of indoor and outdoor venues that can transform your wedding dreams into reality. The highlight is its stunning rooftop terrace, boasting panoramic views of the cityscape, which serves as a magnificent backdrop for your special day.
The Suryaa's team of seasoned wedding planners and event professionals ensures every detail is meticulously executed, from the decor to the culinary delights. Whether you envision an intimate gathering or a grand celebration, this venue can cater to your unique needs. The modern elegance, impeccable service, and sumptuous catering options make The Suryaa a coveted choice for couples who desire a wedding that epitomizes grandeur and romance.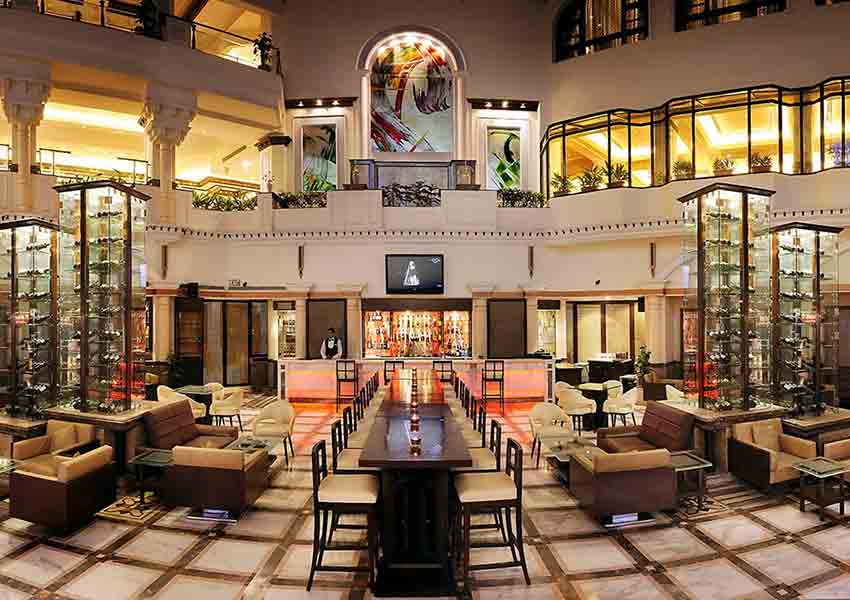 South Delhi's wedding venues offer a diverse range of options to suit every couple's preferences and style. Whether you envision a lavish extravaganza or an intimate gathering, these venues provide the perfect canvas for your wedding dreams to come to life. From the timeless elegance of The Taj Mahal Hotel to the tranquil beauty of The Roseate, South Delhi's venues offer a wealth of possibilities for a truly unforgettable wedding day. So, take your time, explore these remarkable venues, and choose the one that resonates with your vision for your special day. Your South Delhi wedding is bound to be a celebration of love, style, and unforgettable memories.