Wedding celebration calls for big planning. Hence you must start planning in advance and search for the right wedding venue. So if you are planning an extravagant and larger than life wedding, we have some amazing choices of wedding venues in Delhi/NCR. The best thing about these venues is that they are located very close to the IGI international airport and one could easily reach these venues without any hassles. All these wedding venues in NH8 are intricately designed and are equipped with modern amenities to provide your guests with the best-in-class services.
Host your celebration at these best wedding venues in NH8:
Westend Inn
Glitz Westend Inn is your one-stop solution where you can host your celebration with grandeur without having to worry about the arrangements or space. Spread over 3.5 acres, this hotel provides you with 5-star facilities where you can experience royalty and luxury while celebrating your life events. Here are some of the options you have when planning your celebration at the Westend Inn.
Poolside area: Offers guest capacity of 50
Indoor hall: Offers guest capacity of 50
Outdoor lawn: Offers guest capacity of 350
Lawn+Hall: Offers guest capacity of 400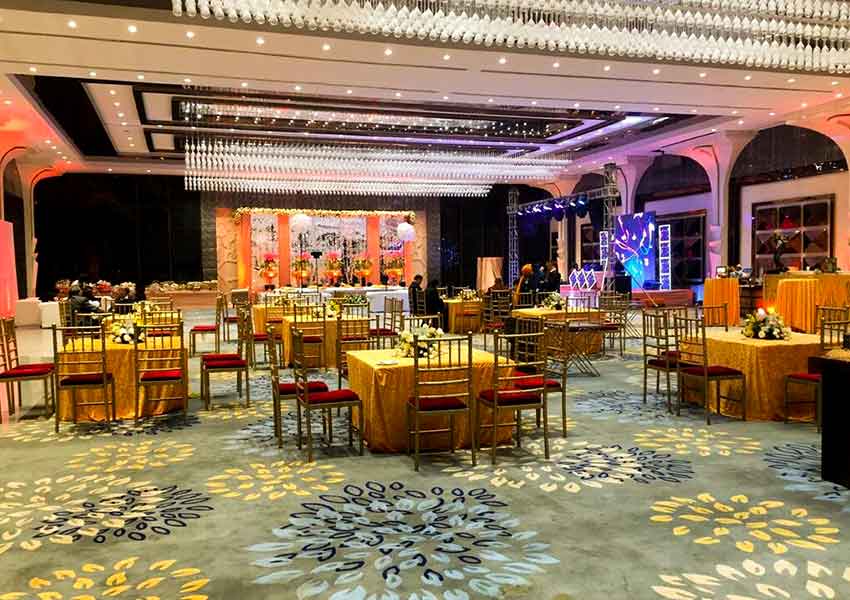 Dee Marks Hotel & Resort
Another luxe wedding venue in NH8, Dee Marks Hotel & Resort would leave both you and your guests amazed with its intricate surrounding and lush greenery. The intimate settings, custom tailored menus, and seamless services are what make this venue the perfect choice for all your vital events. Dee Marks have a multiple choice of venues to choose from for your celebration. Here have a look at the choices you get at Dee Marks, the best wedding venue in Delhi.
D-royal: Offers guest capacity of 400
Green lawn: Offers guest capacity of 150
New Ballroom: Offers guest capacity of 150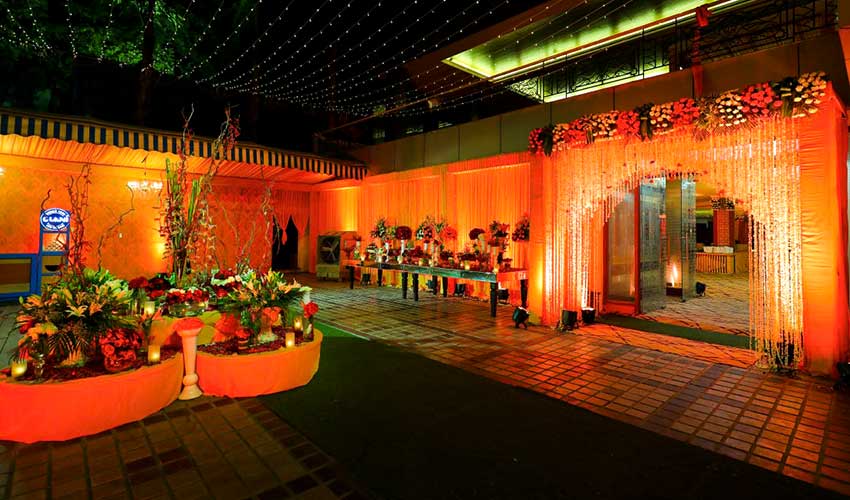 Manaktala Farms
This wedding venue in Kapashera, Delhi is all you need to host your wedding and reception with luxe and grandeur. The beautifully designed farm with 4.5 acres of land, this venue has both banquet hall and lawn to help you host your wedding nuptials in style. So if you wish to have your wedding amidst the green surrounding and nature, this is the place for you. Moreover, this venue also provides you with waterproof pandal with an enchanting ambiance.
Front Lawn: Offers guest capacity of 1500
Back Lawn: Offers guest capacity of 1500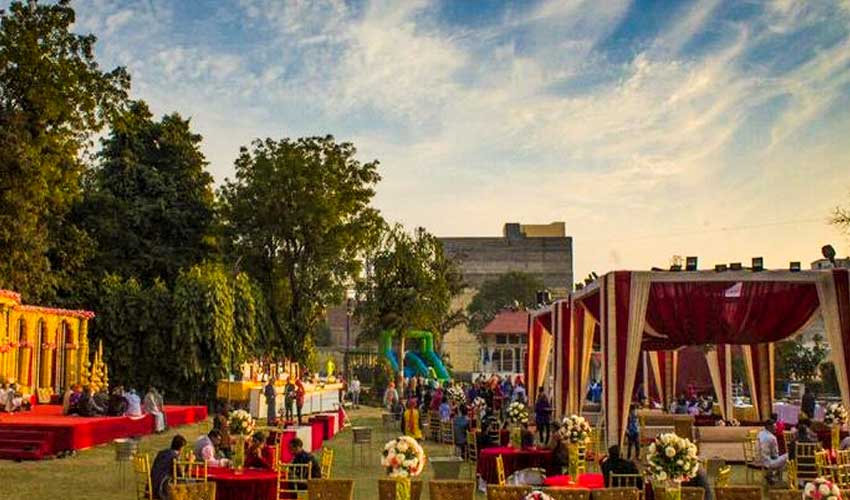 Ambria Pushpanjali
A 5- star property located in Airport Dwarka Link Road in Delhi, this venue will cater all your needs. Ambria Pushpanjali provides you with the best amenities, premium catering services, and world-class services that make the venue an ideal choice to host your life-events. Its close proximity to the airport also makes it convenient for guests to reach the venue.
Banquet Hall: Offers guest capacity of 1500
Front Lawn: Offers guest capacity of 1500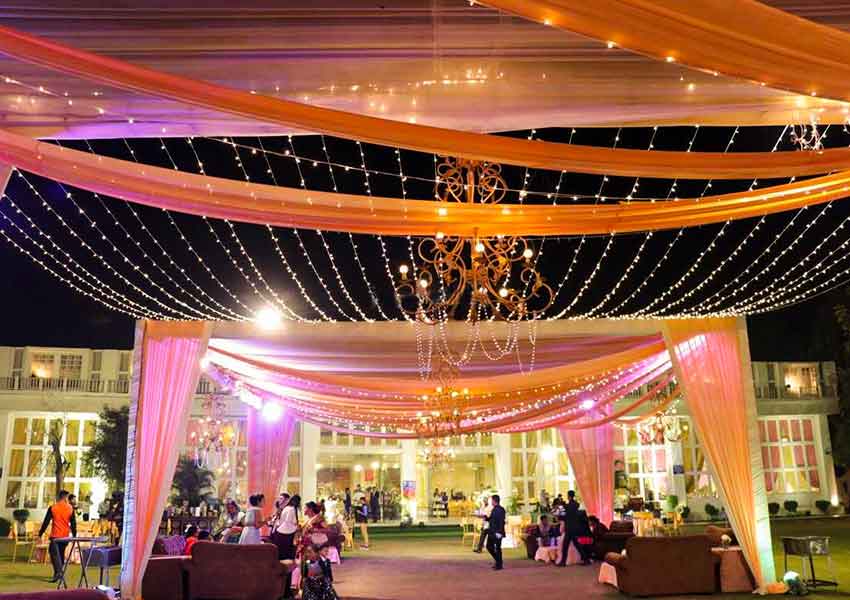 The Venetian Polo Farm
One of the best wedding venues in South Delhi, the Venetian Polo Farm has a sprawling space of 60,000 sq. ft. This is one of the most popular rental properties for hosting grand events like a wedding. From modern-day amenities to world-class culinary to thriving aura and ambiance, this venue promises all of this.
It consists of a sub venue.
The AC Pandal can accommodate up to 1500 persons within an area of 35000 sq. ft.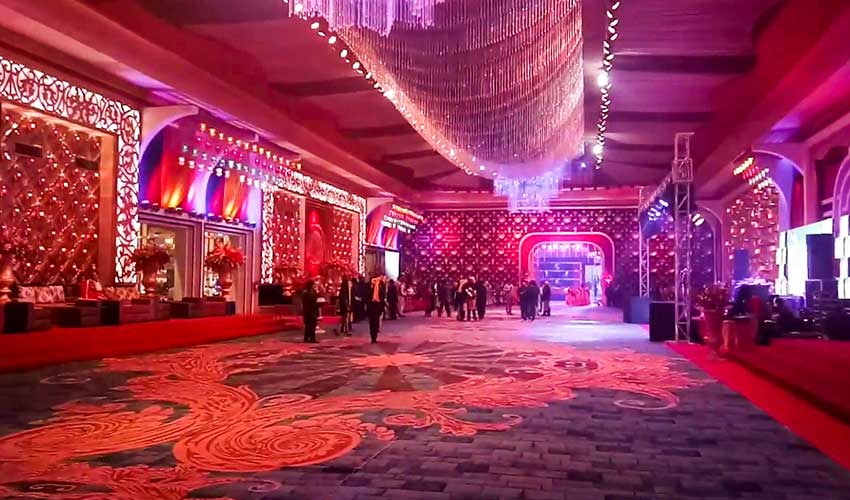 The Golden Green
Spread over a sprawling area and marked with greenery and lushness in every corner, the Green Golden is another popular wedding venue in NH8. Located at Pushpanjali, Dwarka Link Road, this venue combines the best amenities and services with a refreshing backdrop for families to indulge in sheer happiness and enjoyment. The elegant and comfortable wedding setup provides the best hospitality.
The primary location or what can be described as Sub-Venue is the AC Pandal with Open Space.
Guest Capacity – Between 400 to 1200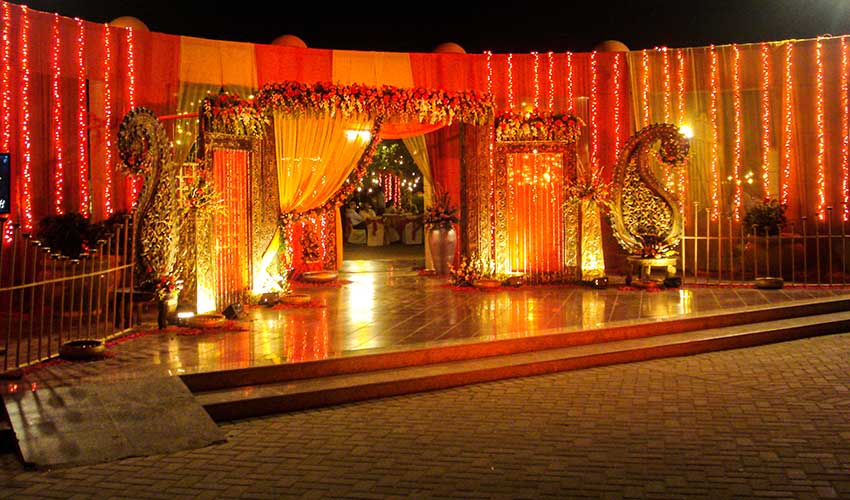 The Kundan Farms
Located away from the hustle-bustle of city life, the Kundan Farms by Fern is a celebrated and eloquent wedding venue. It is located beside NH-8 and offers a peaceful, rich, and royal setup for hosting the perfect wedding party. Equipped with the most modern amenities and facilities and ensuring the best hospitality for the guests, the Kundan Farms is an ideal choice for hosting a grand wedding celebration. Its décor and styling is luxurious and adds to the overall grandness of the occasion.
Lower Deck – It is spread over an area of 22,000 sq ft. and can accommodate up to 800 guests
Upper Deck – this 30,000 sq. ft. sub venue can accommodate up to 1200 guests.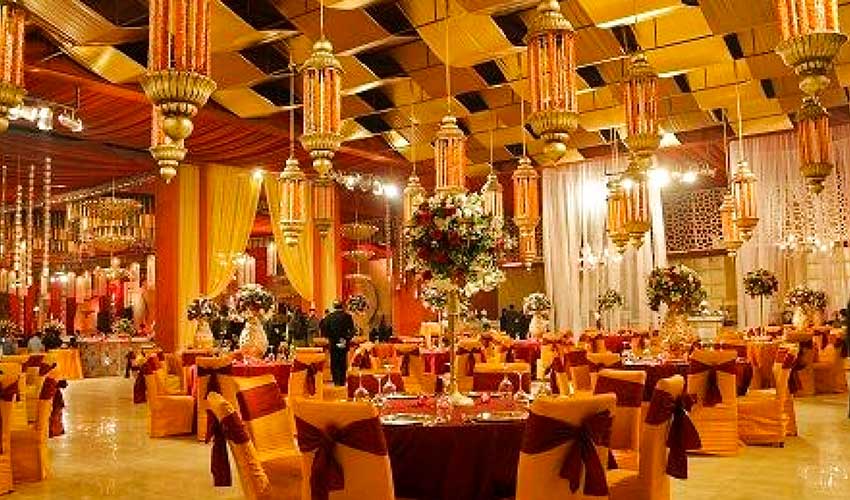 Hotel Mapple Emerald
This is one of the most popular 4-star wedding venues located at NH8, Yawantika, Rajokri. It is architecturally elegant and sophisticated with ultra-rich interiors that make it the best choice for arranging a happening wedding party. The guests are presented with professional hospitality by experienced staff and the best amenities and services. There are several sub venues to select one for different events.
Imperial Lawn – It is an indoor sub-venue spread over an area of 27,000 sq ft. and accommodates 300 to 1000 guests
Carnation Hall – Ideal for 200 t0 600 guests, it covers an area of about 15,000 sq ft.
Crystal Court Hall – This is built over an area of 5500 sq ft. and can house up to 300 guests
Iris Hall – It comprises an area of 8000 sq ft. with an accommodation capacity of 200 to 400 persons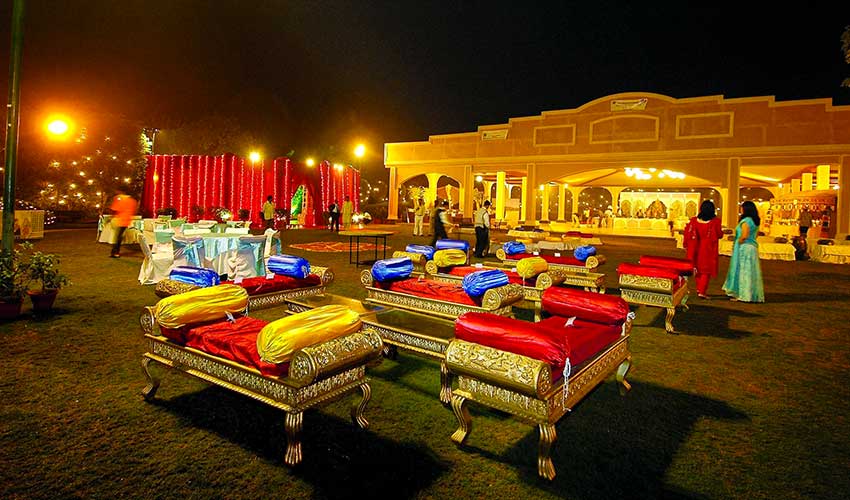 Udman Resort
This is a boutique resort by Ferns and Petal, situated at Mahipalpur on NH8. One can imagine the vastness of the resort by the fact that it comprises of open space of about 40,000 sq ft and covered area is of about 30,000 sq. ft. Its plush, contemporary décor sets the ambiance for hosting the best wedding party.
With four distinct sub-venues, the overall guest capacity is 3300 person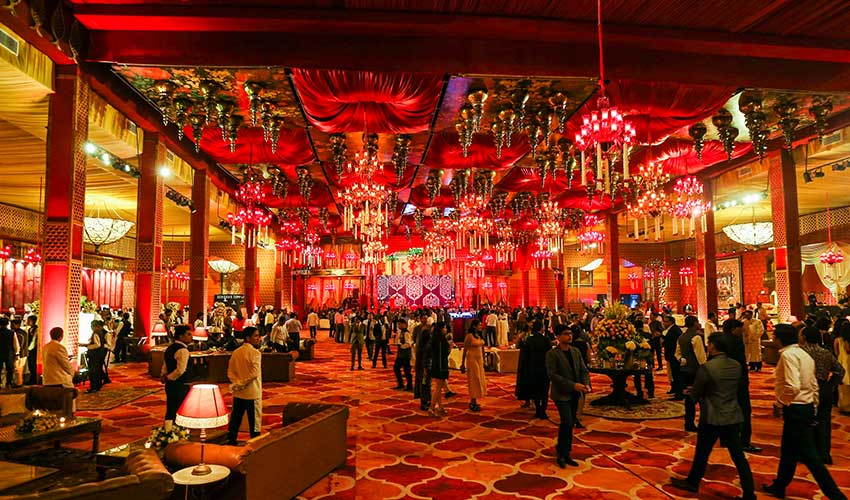 Balson Farm House
Located at Dwarka, NH-8, The Balson Farmhouse is another luxurious wedding venue that needs a special mention here. Spread across an area of 2.75 acres, this is one of the most sought after farmhouse wedding destination. Its grandeur décor and expensive interiors provide for the correct ambiance to host the most awaited wedding event.
It houses the best indoor banquet hall that can comfortably accommodate up to 1200 guests.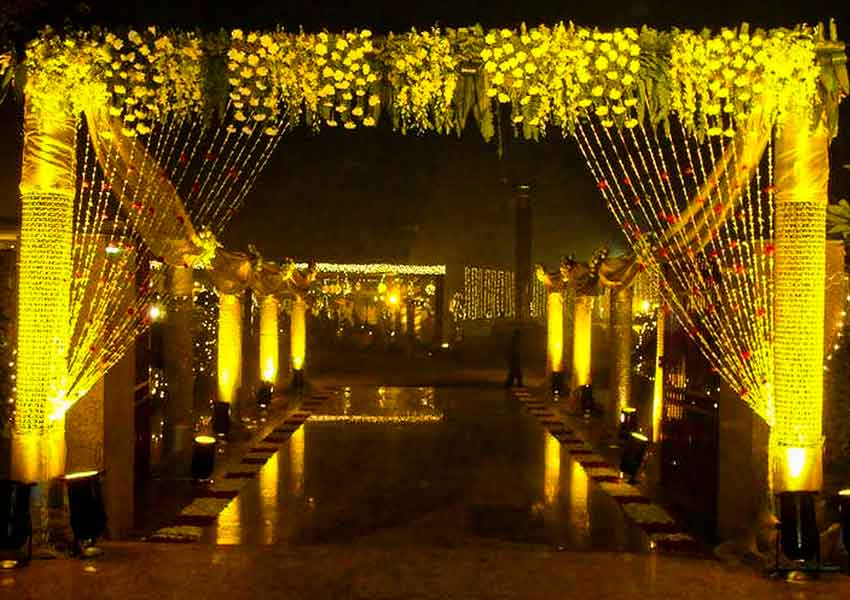 So pick any of these wedding venues and turn your celebration into a memorable affair. You can also contact our venue experts at GetYourVenue who will help you find the best wedding venues in Delhi of your dream.