With Unlock in action, most couples are all set to tie the knot in an intimate wedding ceremony. We now know that COVID is still hunting us down and till the time it is around, our first and foremost duty is to take selfcare and follow all safety protocols. While ensuring the safety of one and people around us, many couples are opting for an intimate wedding option. Many people choose to do a small backyard wedding while others do not have enough spaces to accommodate those gatherings. In order to manage, they are constantly in a hunt for places which can offer them spaces to accommodate their smaller gatherings.
There are many venues in Delhi NCR and not all provide spaces for smaller gatherings. So, if you are someone who is looking for a small wedding venue in Delhi NCR then please keep scrolling. Outdoor or indoor, we have got some outstanding wedding venues for your dreamy intimate wedding. Finding the right wedding venue is surely a task and fret not, as we have got just the best for you. Intimate weddings are already very special and these venues will make it even more memorable.
Manaktala Farms by Ambria 
A dream paradise and your venue for a day, Manaktala Farms By Ambria is a wonderfully built farmhouse in NH8 Pushpanjali. Sprawled over 3 acres of verdant land the property is the creme de la creme of wedding venues in South Delhi. For those planning an elegant celebration close to nature yet with a touch of finery, look no further than this venue! Be it a wedding, sagan, Mehendi or cocktail party this farmhouse offers just the right kind of ambiance for any ceremony. It has a team of skilled decor experts, as well as well-trained staff. Moreover, being close to IGI airport, it offers convenience to traveling guests.
Manaktala Farms by Ambria, Kapashera has catering arrangements in place and takes care of the venue decoration as well. The venue serves scrumptious food to your guests. The decor team here takes care of the decking up the venue for your big day. Manaktala Farms offers a complimentary changing room for the bride and the groom squad in case they need a wardrobe change, or to rest up before or after the ceremony. It has 3 luxurious rooms and a huge inssor space for the guests which gives them a comfortable stay. The venue is perfect for destination and residential weddings if you are looking at properties in kapashera. The great ambiance of the venue makes everyone feel welcomed.  Manaktala Farm is one of the few wedding venues in South Delhi that can boast of two lawns – both of which are perfect for any celebration! Emerald Green – Aesthetically pleasant and artistically maintained, the front lawn of Manaktala Farm is 35000 sq ft of picture-perfect greenery. It has a 10000 sq ft waterproof pandal that can accommodate 100 to 150 persons. Meanwhile, the entire front lawn can entertain 500 to 1500 guests at a time. Alstonia Lawn – This 15,000 sq ft large lawn can accommodate 120 to 250 people. It's a beautiful, well-maintained garden, perfect for celebrations like birthdays, mehndi, roka, and haldi. When combined with the front lawn it can accommodate 1500 persons.
Key Features
Spacious lawn, modern facilities, and excellent hospitality are few benefits that this banquet in Dwarka has to offer. Here are a few more features of Manaktala Farm.
It has a beautiful cottage with attached bathrooms and 3 spacious rooms in a kothi with a huge hall which can accommodate 30-40 guests. Additionally, a lovely bridal room with a sparkling hygienic washroom is also available.
An enormous parking space (up to 600 cars) is available within the premises. That too with executive valet parking!
A waterproof pandal for uninterrupted dining
An expert team of decorators that offer a plethora of decor options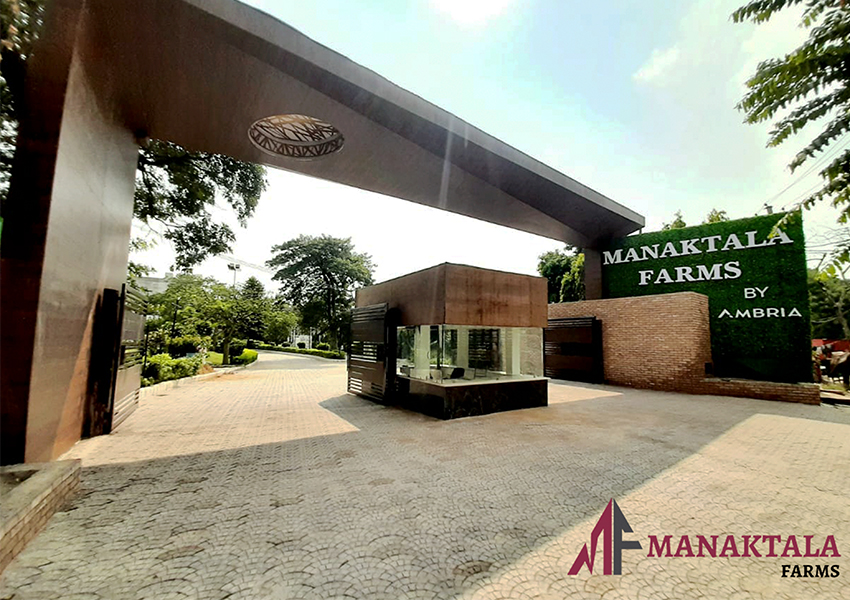 Ambria Pushpanjali 
Strategically located at Airport Dwarka Link Road, Ambria Pushpanjali is a luxurious wedding venue in South Delhi that caters to all your banqueting needs. Nestled in nature's lap and secluded in privacy, the resort provides you with a calm and relaxed atmosphere that rejuvenates guests. It offers premium catering, world-class hospitality and excellent event support that makes it the ideal choice for any celebration. The resort is in proximity to many shopping areas in Gurgaon and Delhi. Also, being 4 km away from the International airport and 7 km away from the Domestic Airport, it provides convenience to weary, traveling guests. Ambria Pushpanjali is one of the best wedding venues on the Airport – Dwarka link road. It offers a beautiful Carnelian Deck – A beautiful courtyard area with a backdrop of an heritage villa. The space is a carpeted area along with 5000 sq feet of indoor space, it is the ideal choice for any intimate celebration you're planning to host. It offers a pleasant and soothing ambiance for every event, be it a wedding, sagan, engagement, or a reception. You also get a A 10,000 sq ft spacious banquet hall  for indoor seating space. Palm Courtyard –  The perfect venue to host your pre-wedding rituals like mehendi, cocktail, sagan, anniversaries and birthday parties. It can easily accommodate 100 people and has an area of about 3500 sqft.
Key Features
With a well-trained team that has decades of experience, Ambria Pushpanjali seamlessly handles events at a large scale, be it a wedding or a corporate convention.
Adequate parking space with valet facility – up to 300 cars
Availability of a luxurious room with 24-hour room service
The state-of-the-art infrastructure that includes all modern amenities
Convenience to traveling guests – 15 to 20 minutes away from IGI Airport
Air-conditioned luxurious pandal that has an area of 10,000 sq ft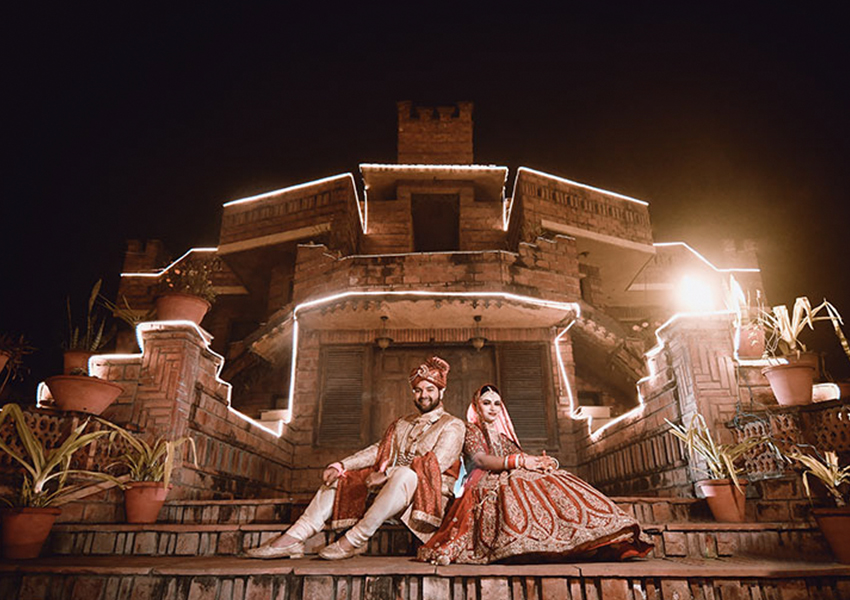 Eden Green Resort by Ambria 
If you are looking for a hotel that does not only meet your expectations but make your wedding stand out, Eden Green by Ambria is the one for you. It is the best wedding venue in Sonipat. Eden Green Resort by Ambria is one of the finest wedding venues in Sonipat that makes it a perfect choice for all your celebrations. It is a luxurious hotel in Sonipat and offers high-end facilities, world-class catering, excellent hospitality, and impeccable services by our trained and professional staff. Elegant and luxurious, this wedding resort in Sonipat will take you by surprise with its thoughtfully designed 20 rooms, spacious banquet halls and lawns, top class hospitality and service. The property is located in a calm and relaxing atmosphere and has a well-trained team with years of experience in handling wedding and corporate events on a large scale. Banquet Halls – Being the most opulent hotel in Ganaur, Sonipat provides you with an opulent hall with an indoor space of 10,000 sq.ft. We bring you three banqueting options to choose from – Ambria, Ambria 2 & Ambria 3. Ambria banquet is on the ground floor which can accommodate guest capacity from 150-200.It is suitable to host your pre-wedding functions. Ambria 2 & 3 are on the first floor with a capacity of 50-75pax each, perfect for small intimate functions.
Key Features
Eden Green by Ambria is one of the prominent hotels in Sonipat that offers its visitors all the comfort and turns your celebration into a grand affair. Check out some amazing features offered at Eden Green by Ambria-
Serves only Veg
Spacious hall available & beautiful lawns
Cooperative & friendly staff
20 rooms with modern amenities available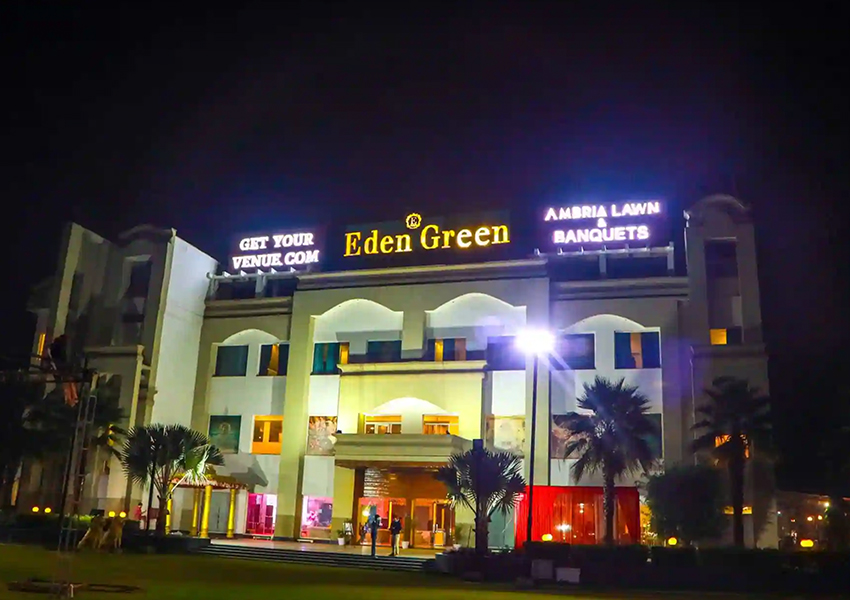 Now, without wasting any more time, head over to these wedding venues in Delhi for your one hell of a wedding. We assure you that you will not regret hiring these wedding venues for intimate weddings and these will offer the best experience to you and your guests. We bet your intimate wedding will be a memorable one and your guests will truly enjoy it.