The most in-news wedding, Kiara Advani and Sidharth Malhotra have just gotten hitched and the internet can't keep its cool! One of the most adorable and glamorous couples in Bollywood got married and boy did they get married in style and aplomb! And we have the details that you are dying for, with all the amazing and gorgeous photos to walk you through their journey into their new married life.
The most adorable Haldi like no other
Sid and Kiara's Haldi pictures graced the Gram on Holi, how poignant to share with us their Haldi moments on such an auspicious day as Holi. And boy did their haldi fit not disappoint in the least!
The couple's first haldi pic on Insta was them staring lovingly into each other's soul and if that doesn't make you believe in true love, we're not sure what will!
Kiara wore a tangerine sleeveless kurta with a plunging neckline with embellishments in gold and golden embroidery as well. She paired the kurta with a beautiful set of cowrie jewelry and we suspect the outfit was created by friend and designer Manish Malhotra. And Sid's multicolor but orange-focused kurta was equally vibrant and awe-inspiring.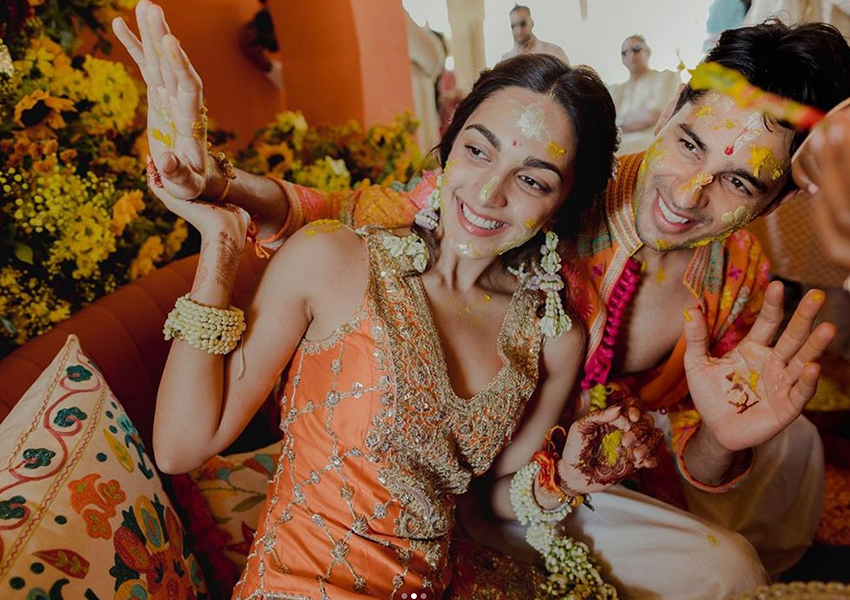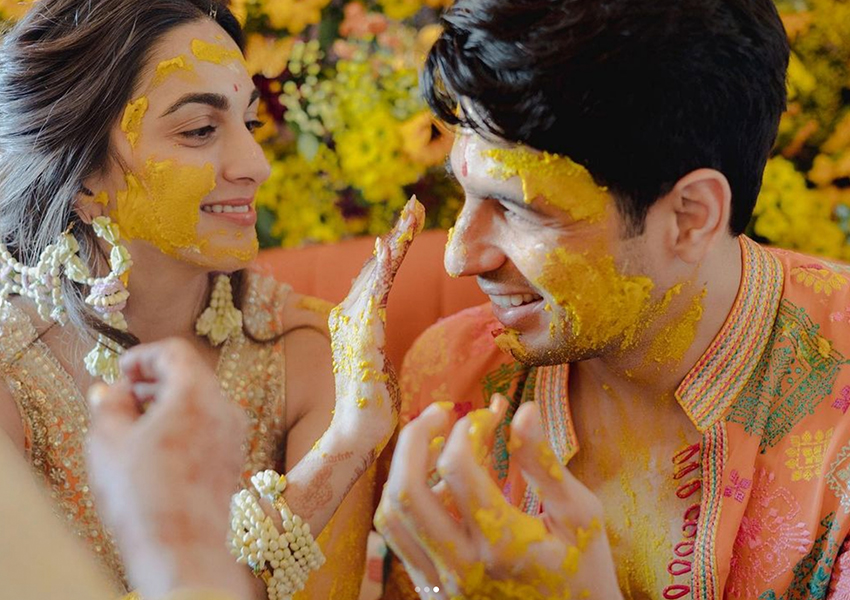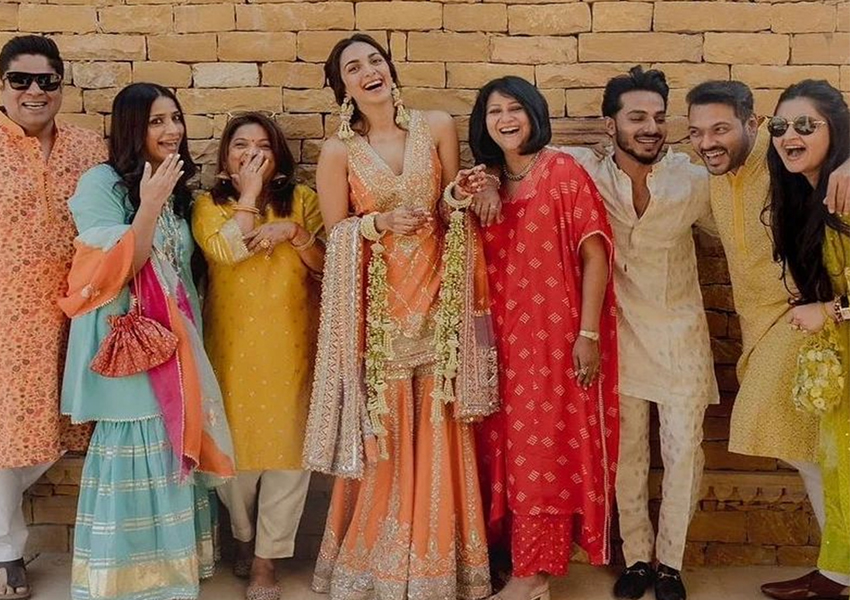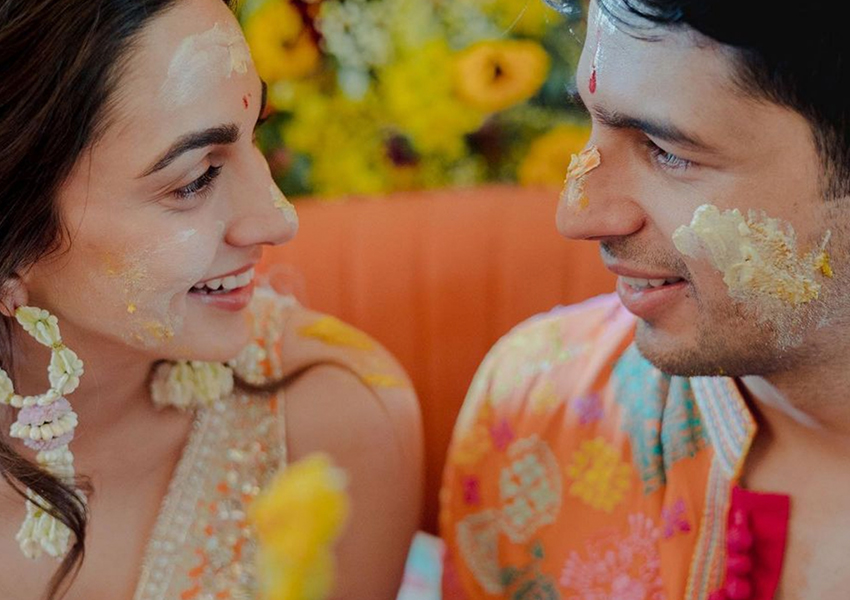 A Mehendi ceremony fit for royalty
People have called this mehendi ceremony so royal and regal, it basically can't be topped, and we aren't here to argue! The loveable and goofy couple look so beautiful and love-struck in these mehendi pics, we have bookmarked them to recreate for ourselves later
As always, Kiara Advani looked gorgeous and stylish in an off-white chikankari lehenga by Manish Malhotra with a gorgeous beaded blouse and a beautiful gold dupatta hand-embroidered with Swarovski crystals and beads. Her royal polki necklace with pale green and pink beads is actually two pieces, a string necklace, and a choker. Her makeup is fresh and neutral, while her eyes are beautifully defined.
Sidharth's look for the Mehendi ceremony is a perfect blend of modern and classic. He wore a mustard-colored silk thread kurta bandhi with a beautiful woven Kashmiri shawl produced by designer extraordinaire Manish Malhotra. And we must say the drip wasn't lacking for our boy!
Even this image of Kiara and her brother Mishaal looks so adorable we almost began ugly crying with joy!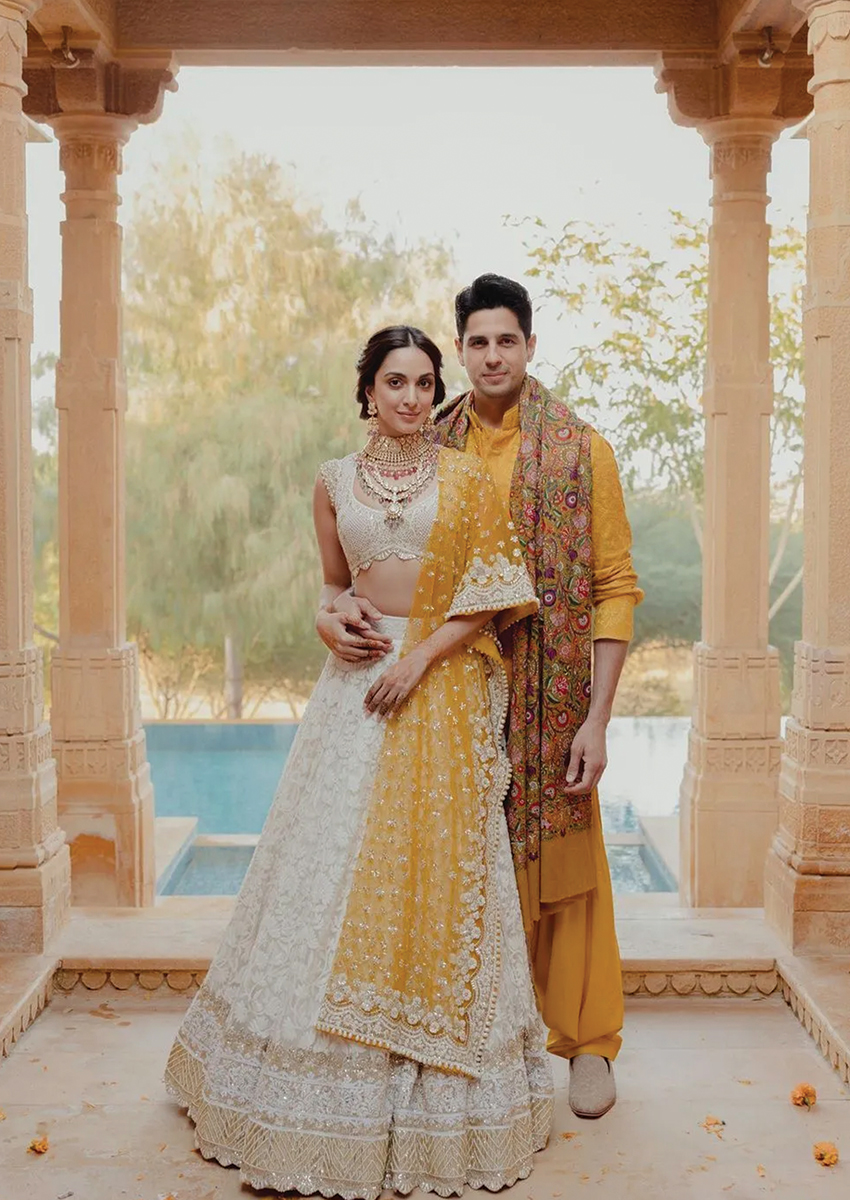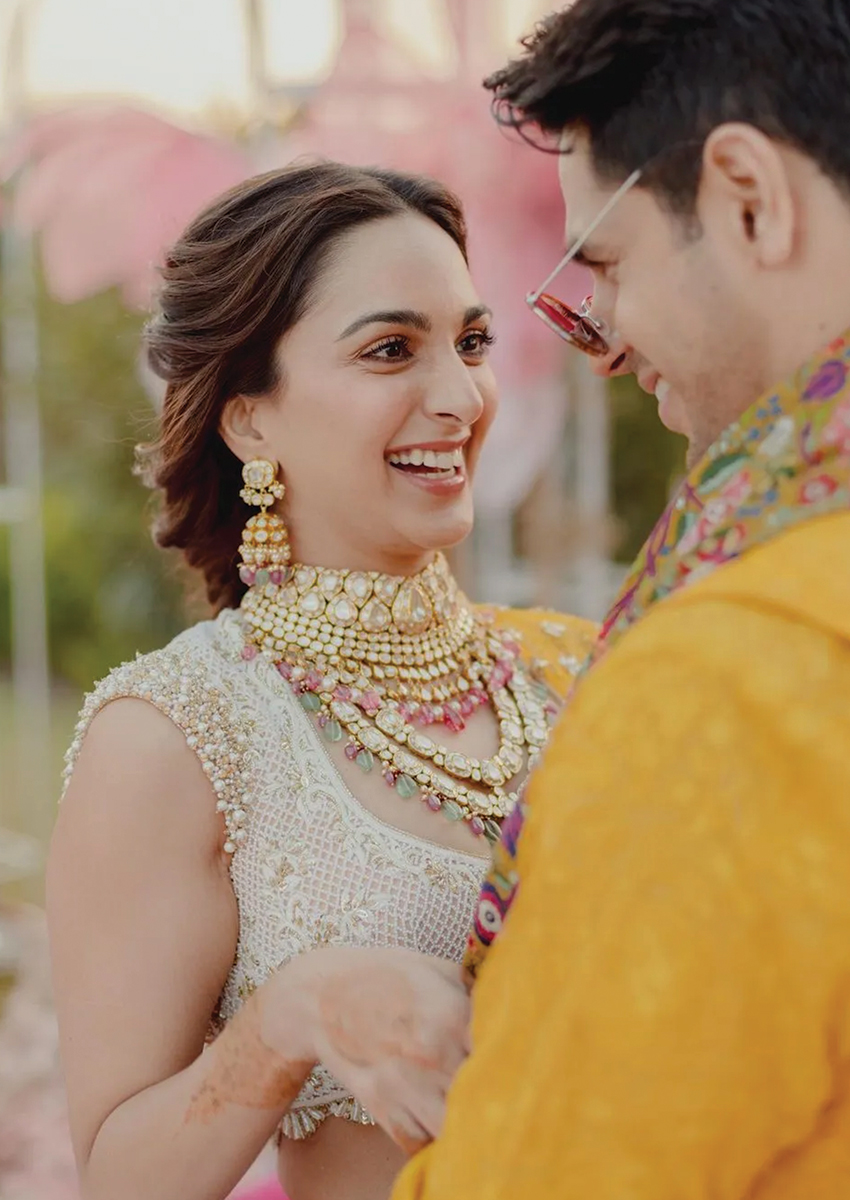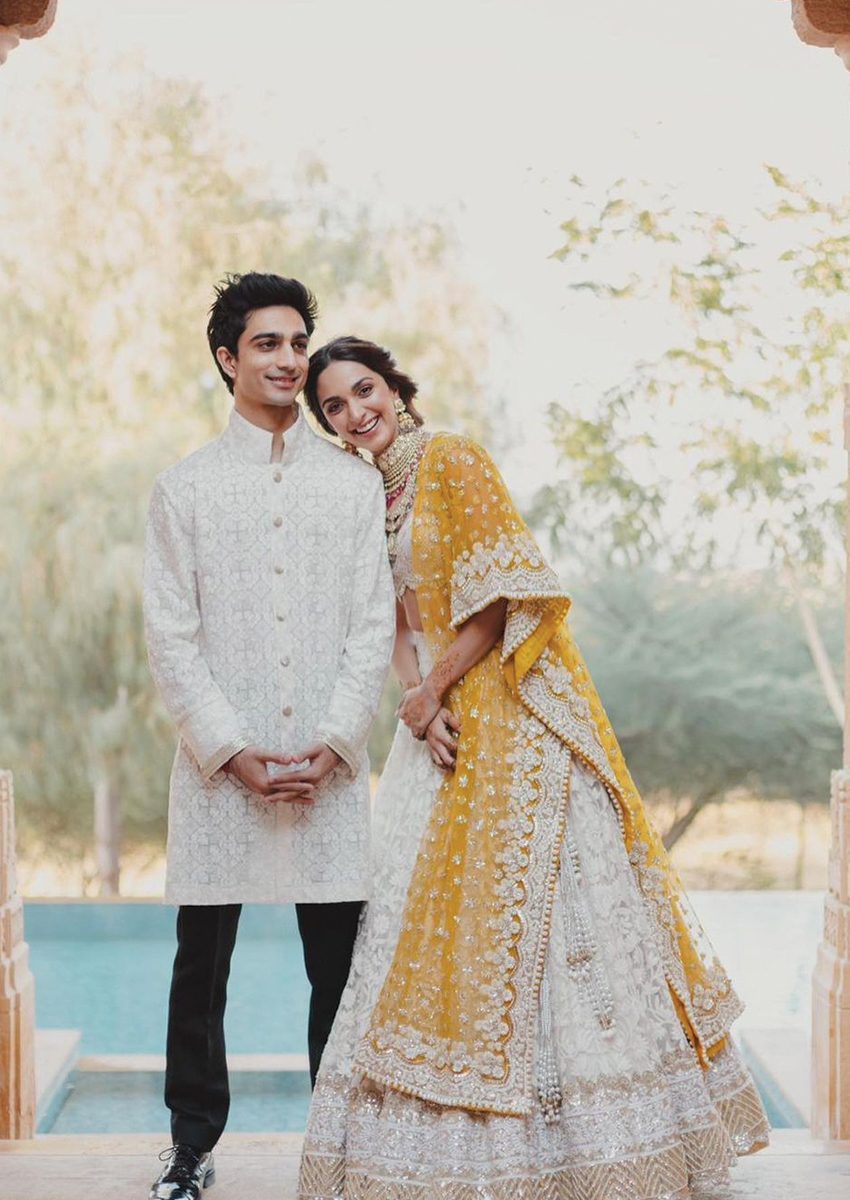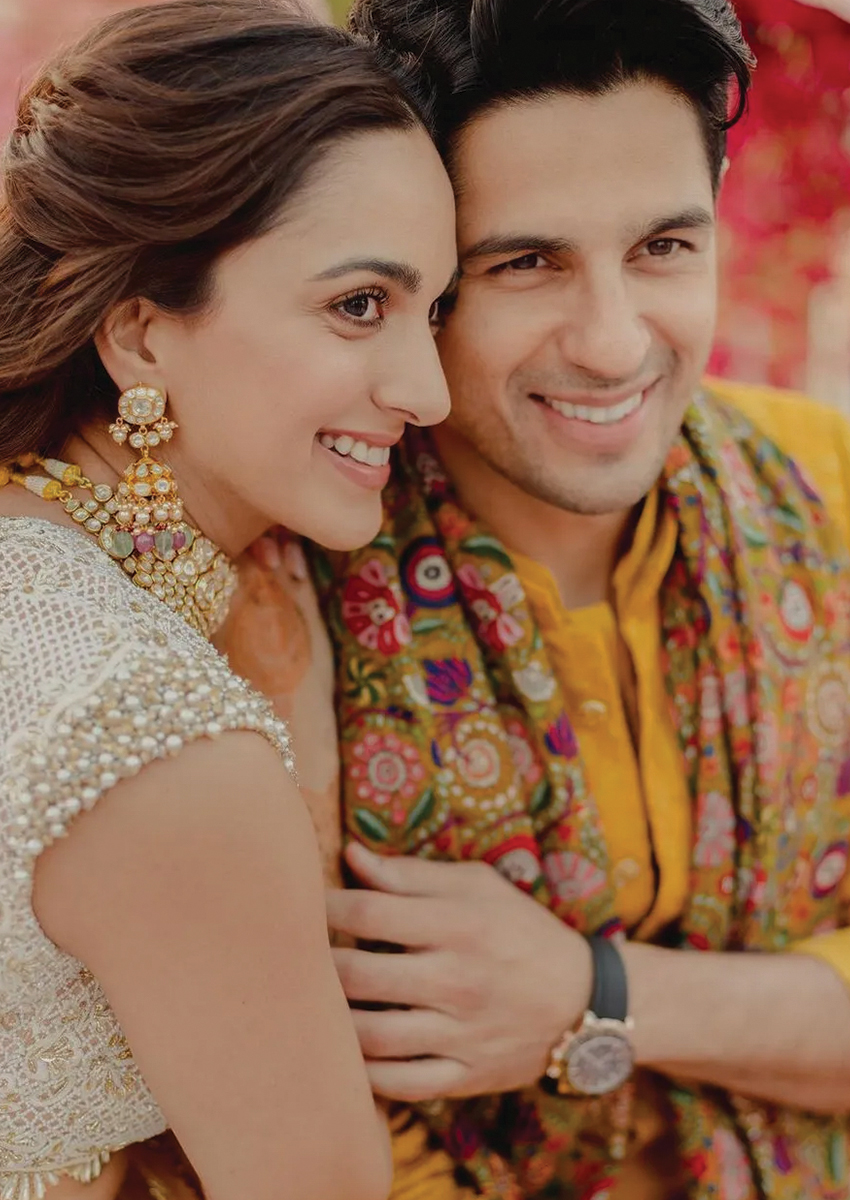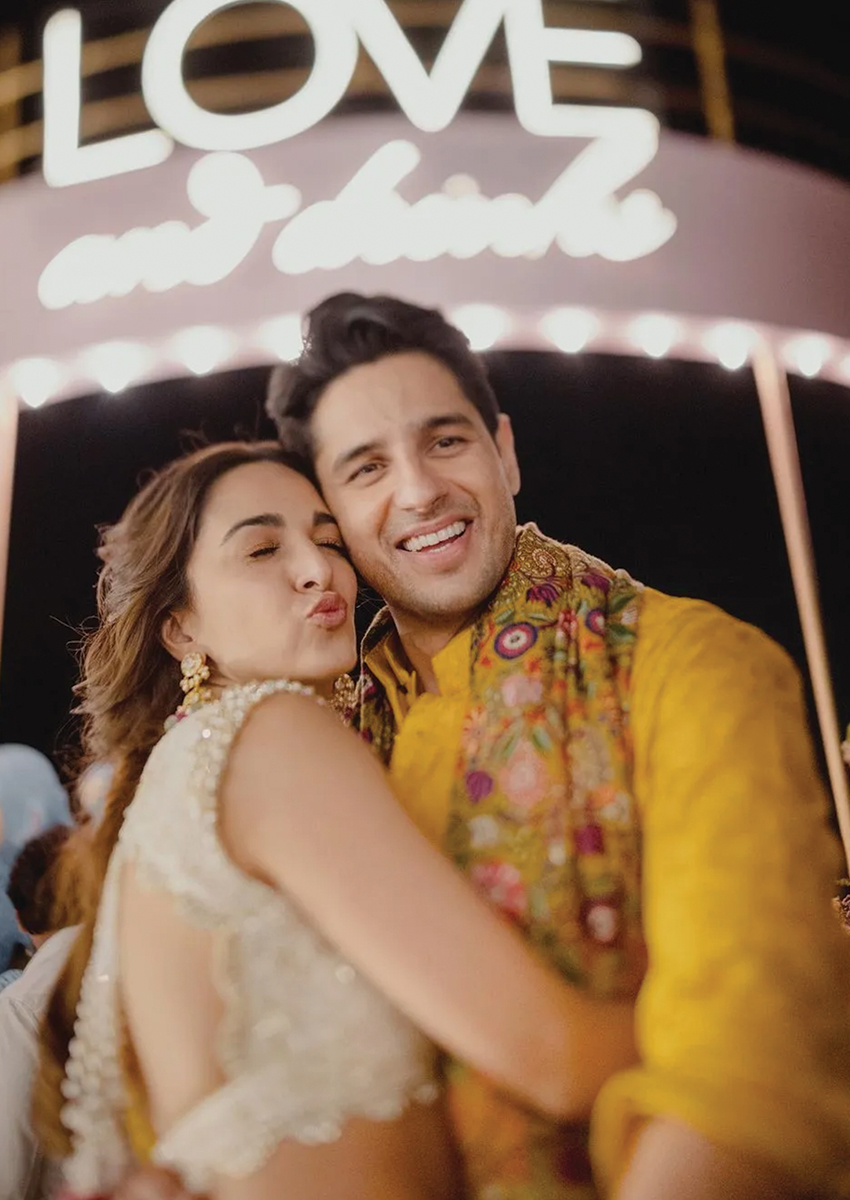 Also read: Get the sizzling details about Richa Chadha & Ali Fazal's fabulous wedding
The glamorous Sangeet that rocked the internet
The day the now-married couple graced the internet with their sangeet photos, it's safe to say we all lost our shi-! They looked an amazing combination of glamorous and love-struck! They clearly danced the night away only pausing to take the most stunning pictures to give us all new-married envy!
The bride-to-be opted for a gold-decorated lehenga with a scalloped border. Kiara paired it with a matching long-sleeved blouse adorned with jhumki tassels. Kiara completed her look with a diamond and ruby necklace, smoky eyes, bare lips, high cheekbones, and an open, curly hairstyle. Her outfit was only accented by her gorgeous smile that was permanently stuck on her gorgeous face.
Our striking groom Sid opted for regal glamor in a tailored velvet sherwani in an austere combination of black and gold. Crafted with intricate yarns and precious Swarovski crystals, a symmetrical kurta featuring a subtle twist that explores the perfect balance between cultural roots and cutting-edge aesthetics.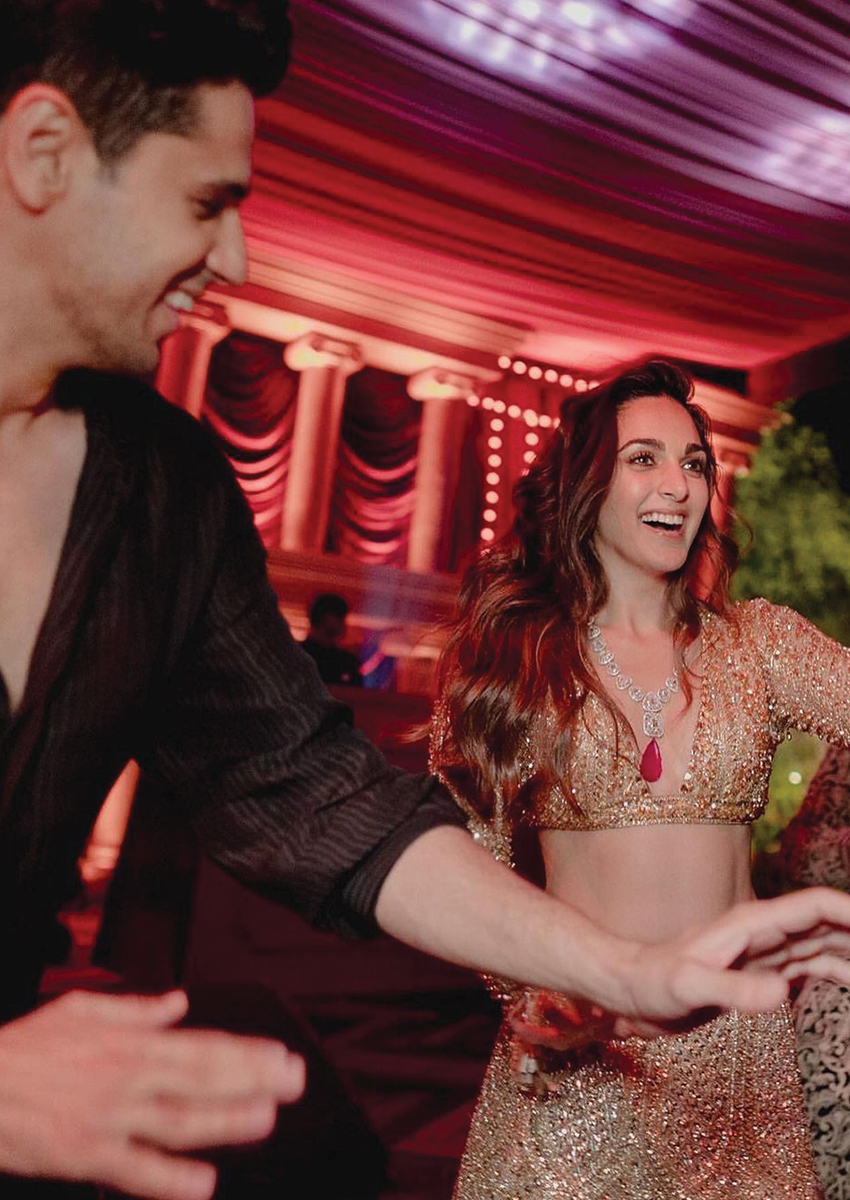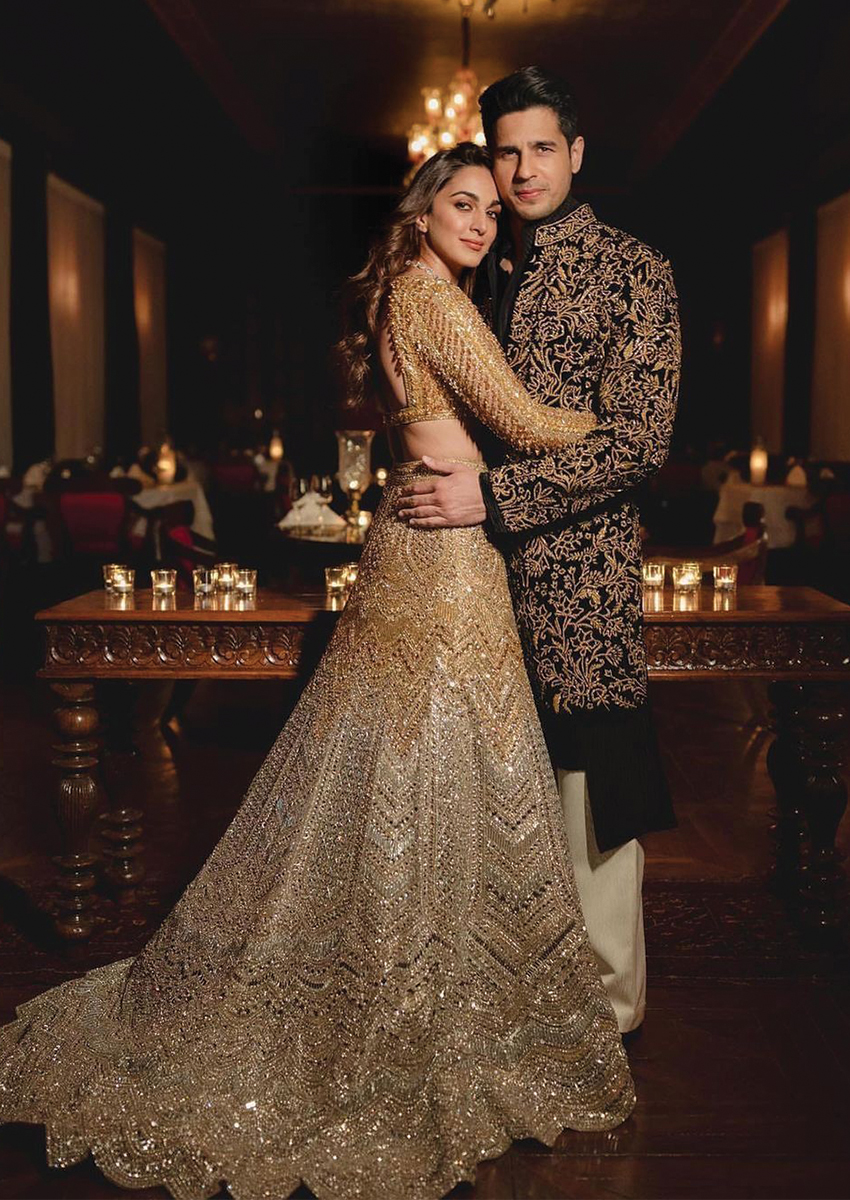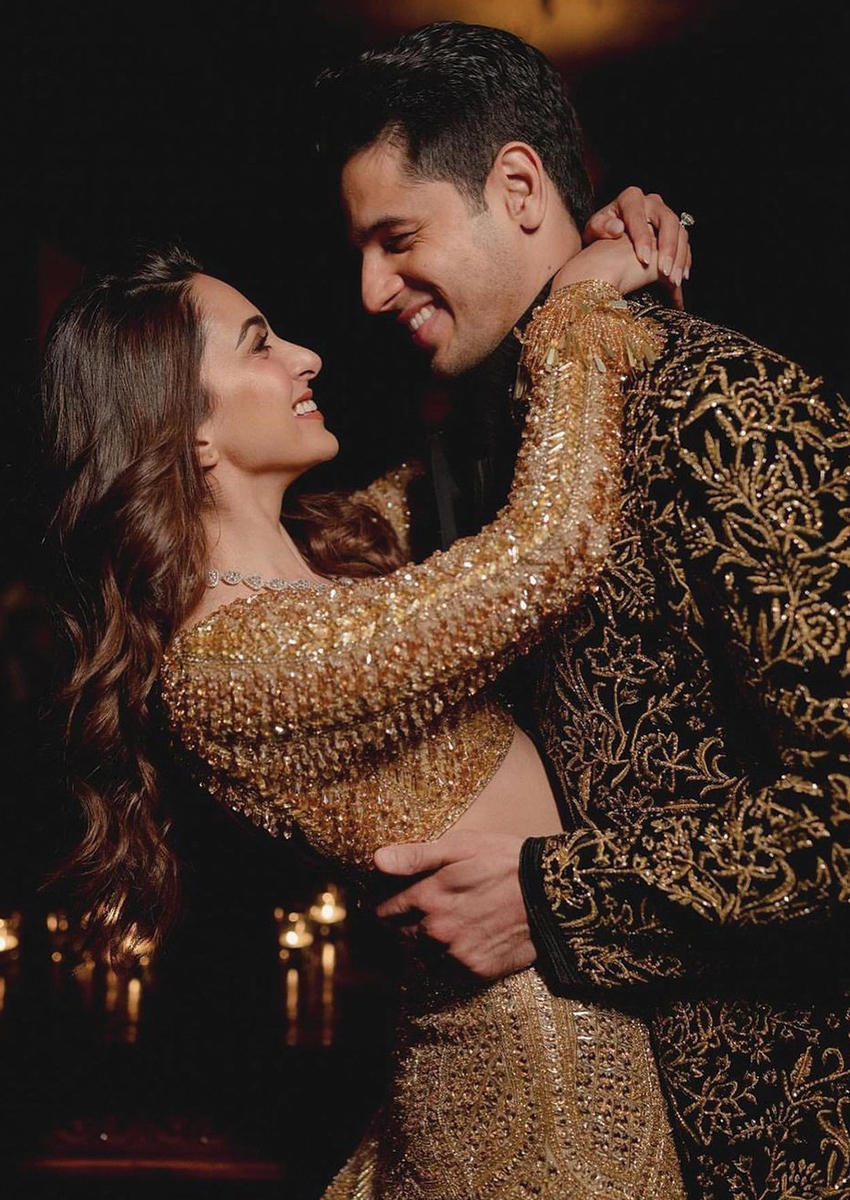 The undisputed wedding of the year!
And finally, we come to the most amazing wedding of the year and we all were rightfully awestruck and amazed! The couple looked extremely elegant and glamorous in their wedding drip and they have Manish Malhotra to thank!
The bride, Kiara shone in pale pink and the groom Sid in gold. Kiara's stunning emerald and diamond jewelry was also designed by Manish Malhotra, while she wore a bespoke kaleere by Mrinalini Chandra.
Their wedding took place at Suryagarh Palace in Jaisalmer, and according to the grapevine, Kiara and Sidharth attended with very close family and friends. Bollywood is present, but only with the couple's close relatives.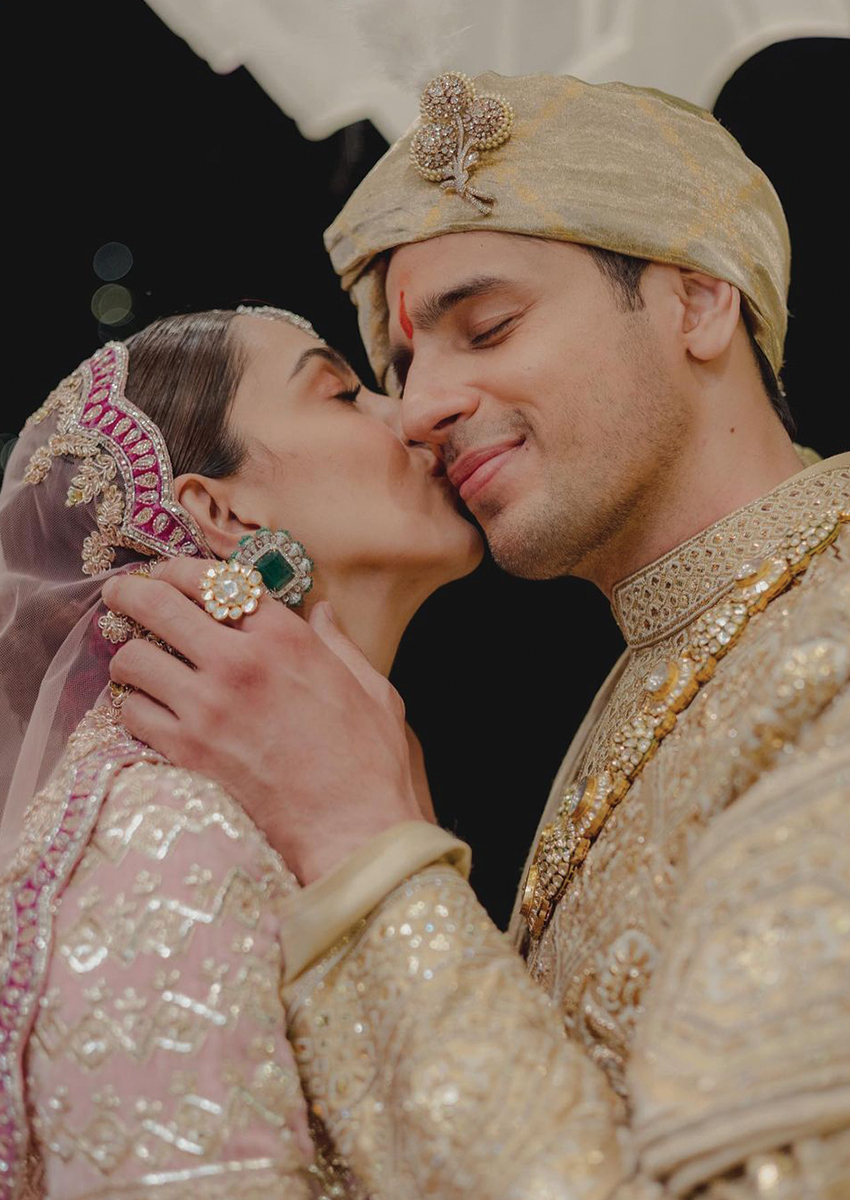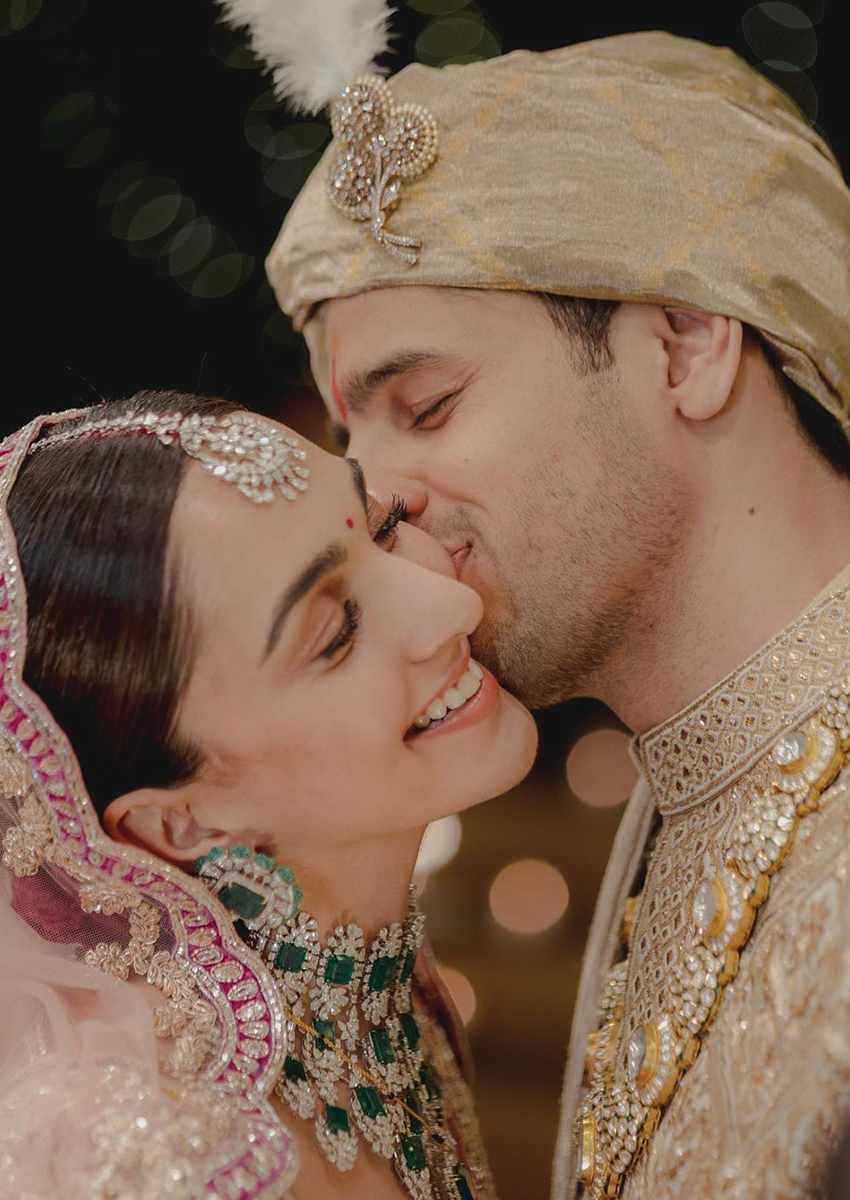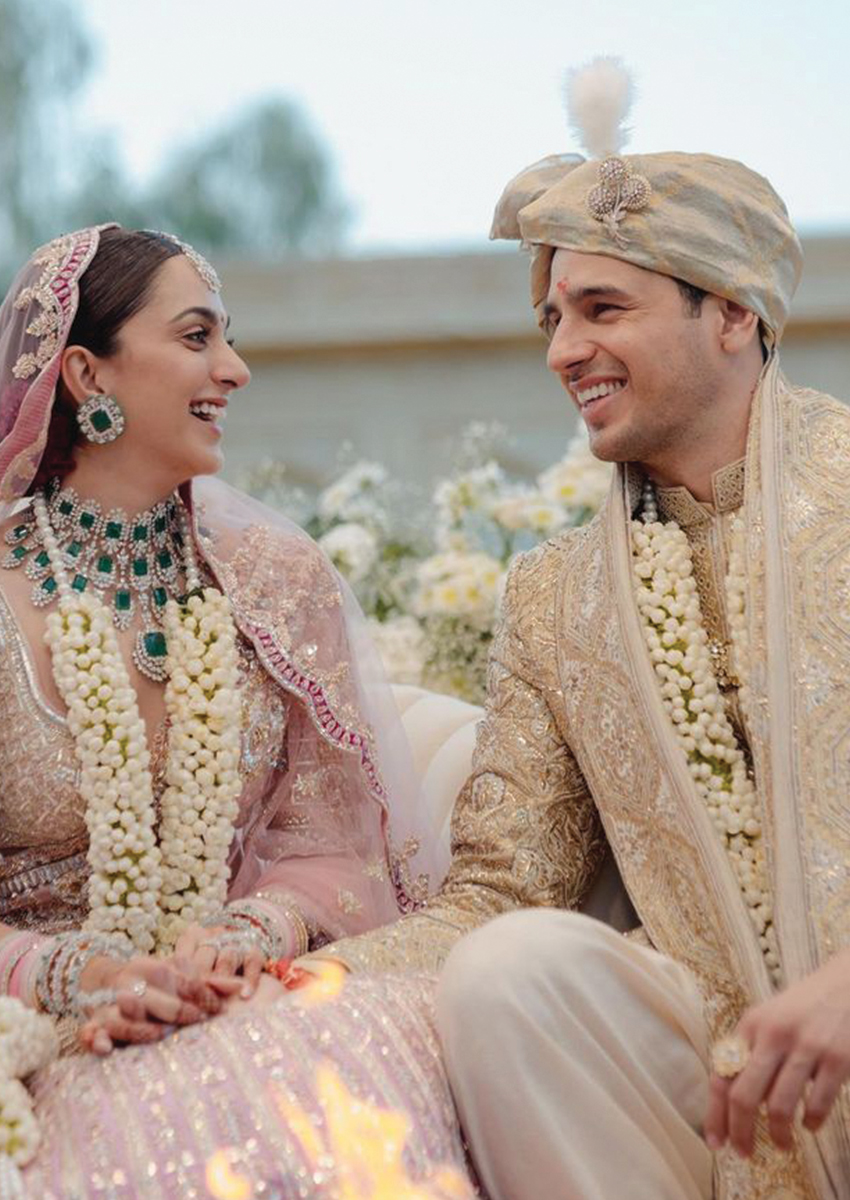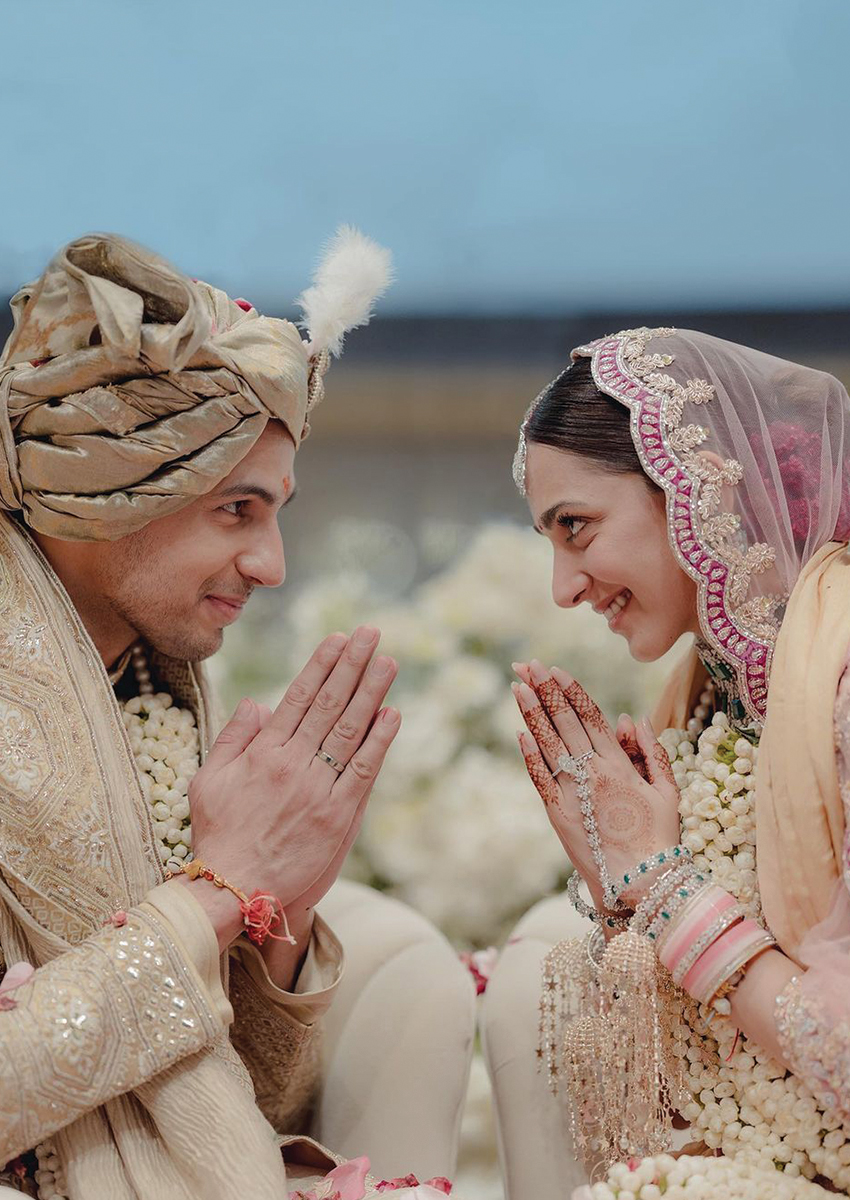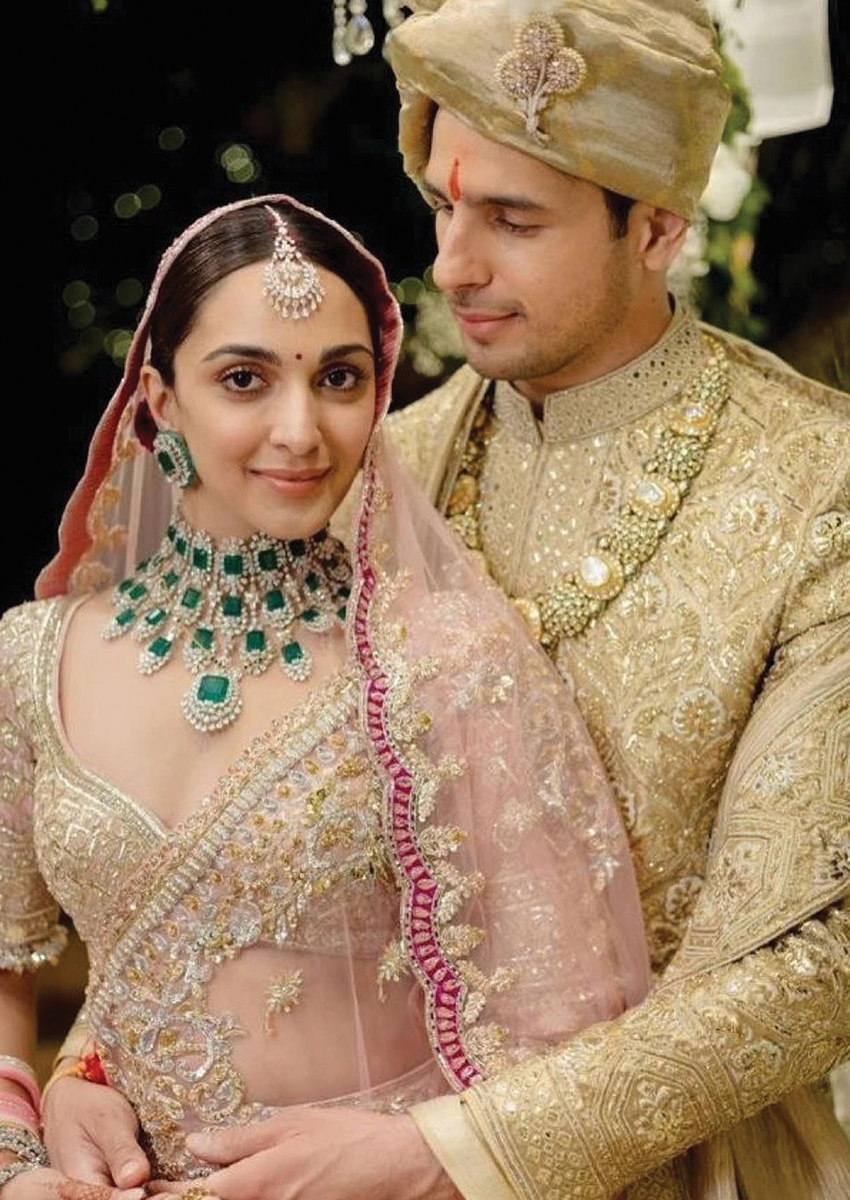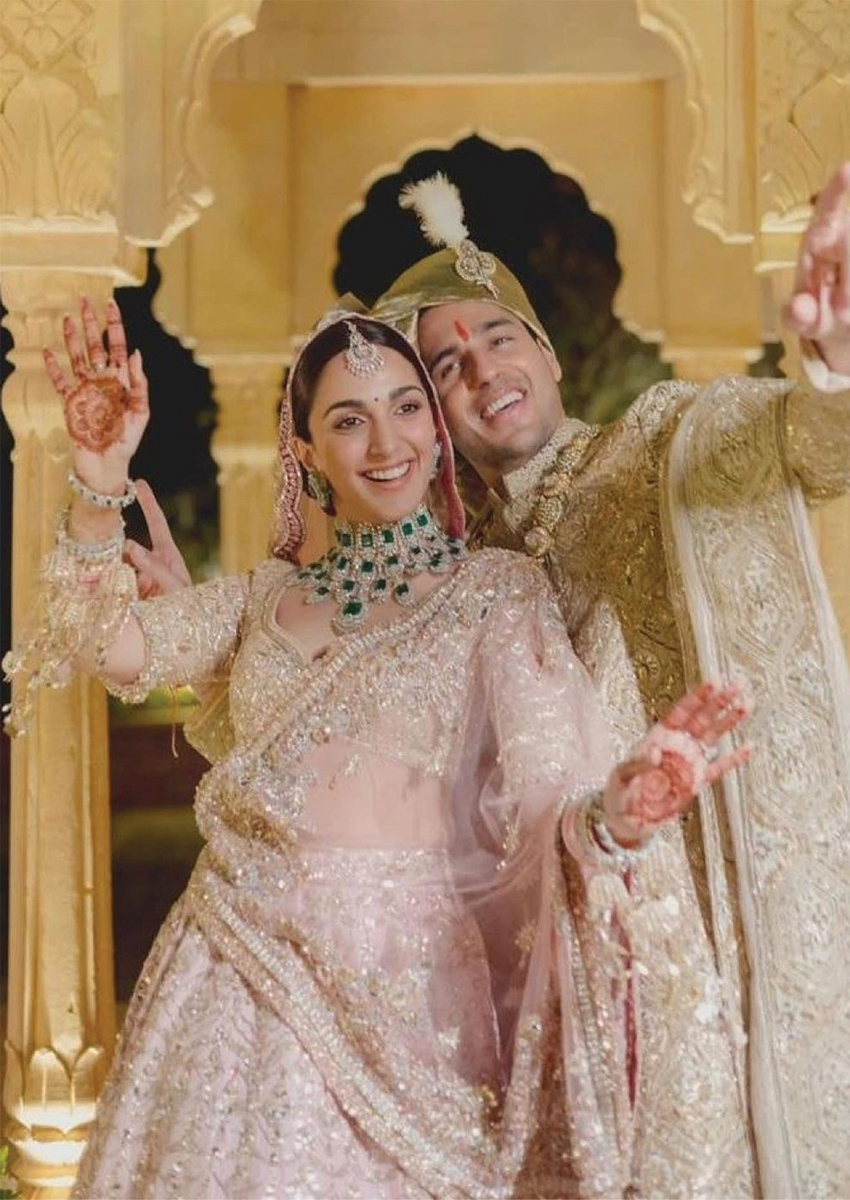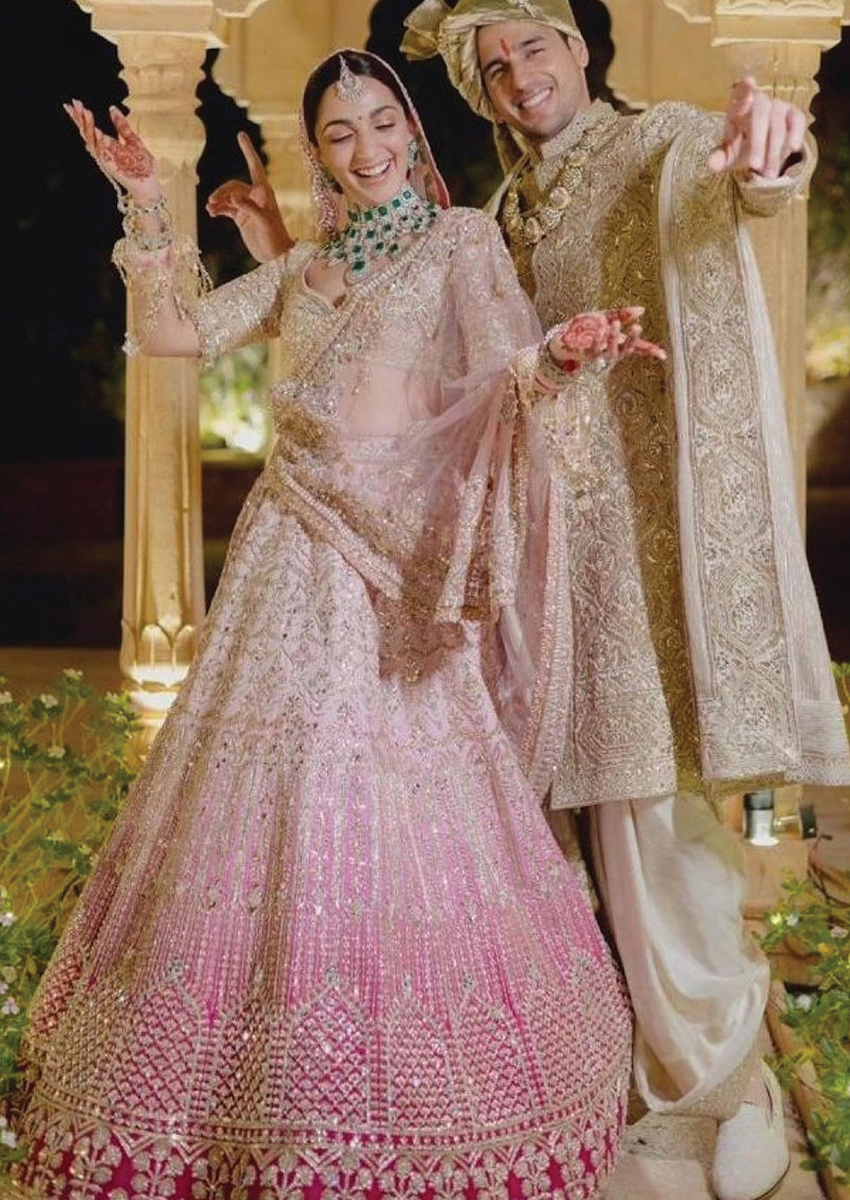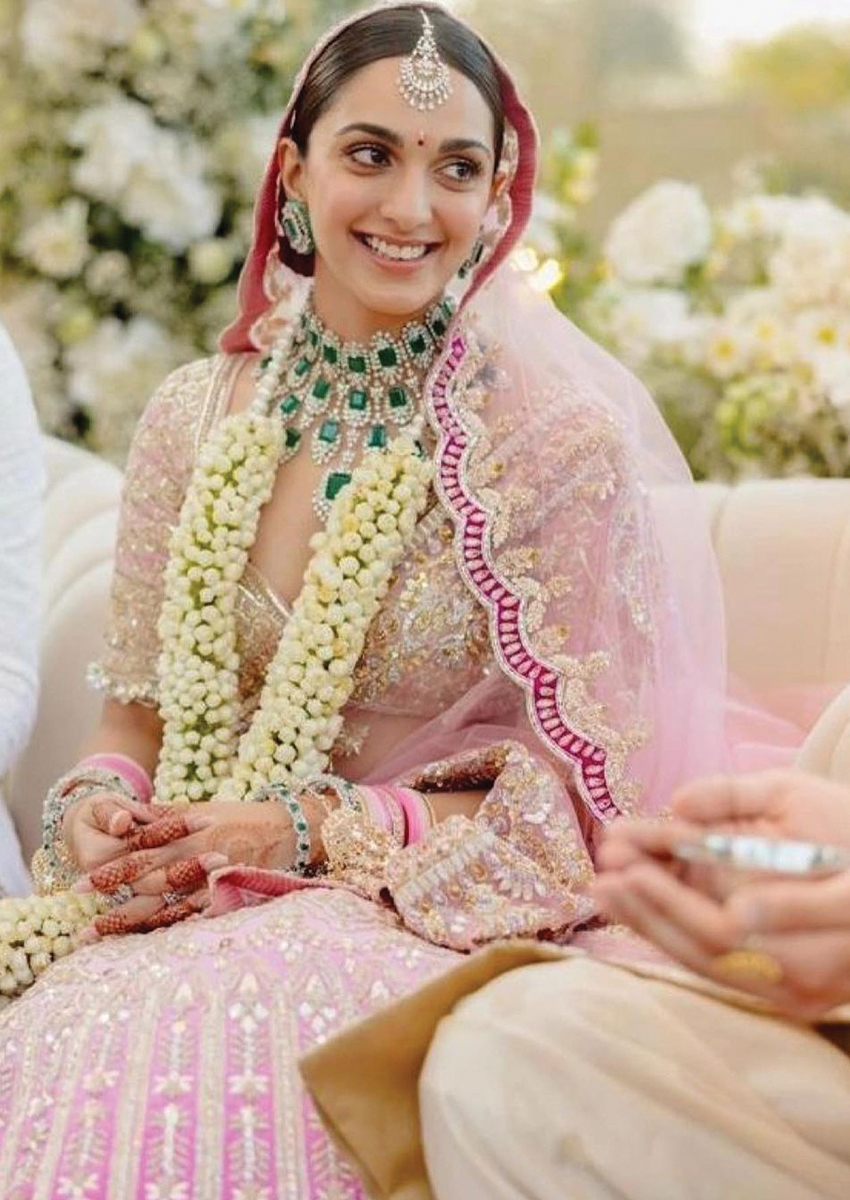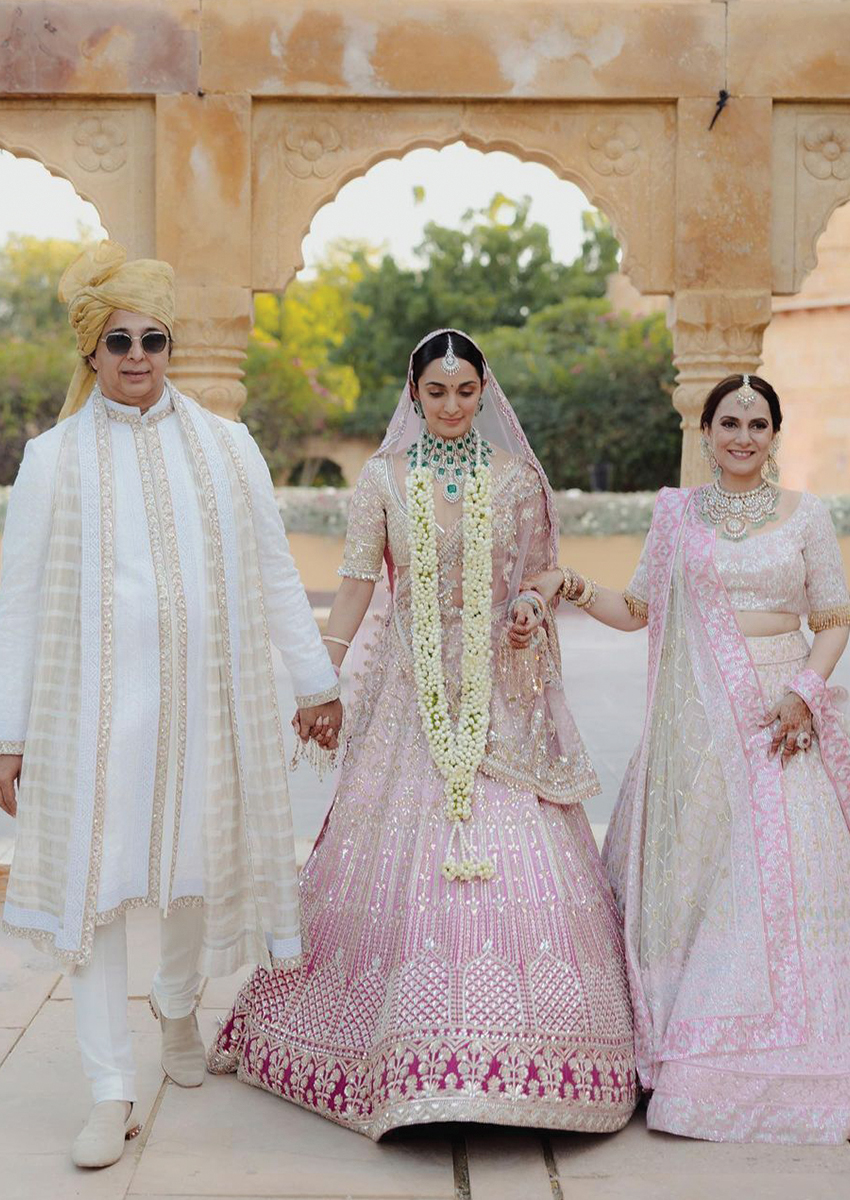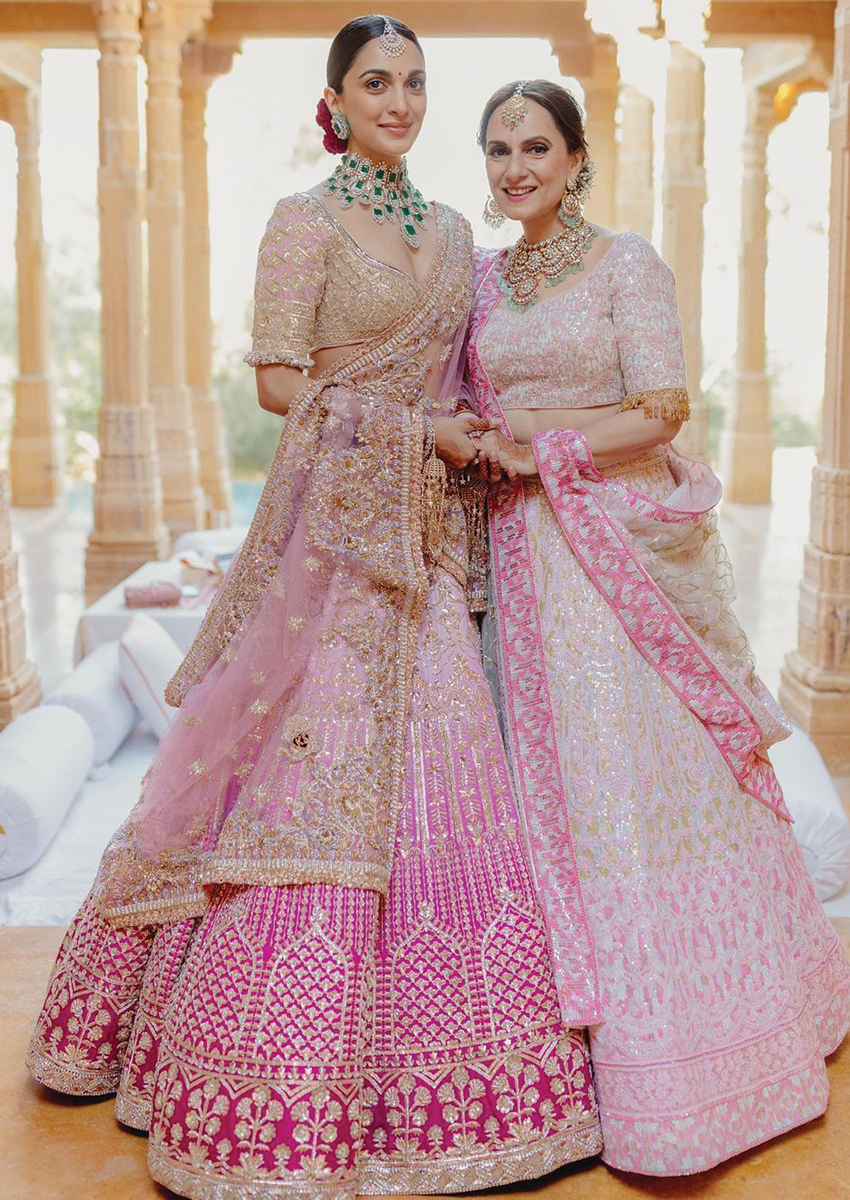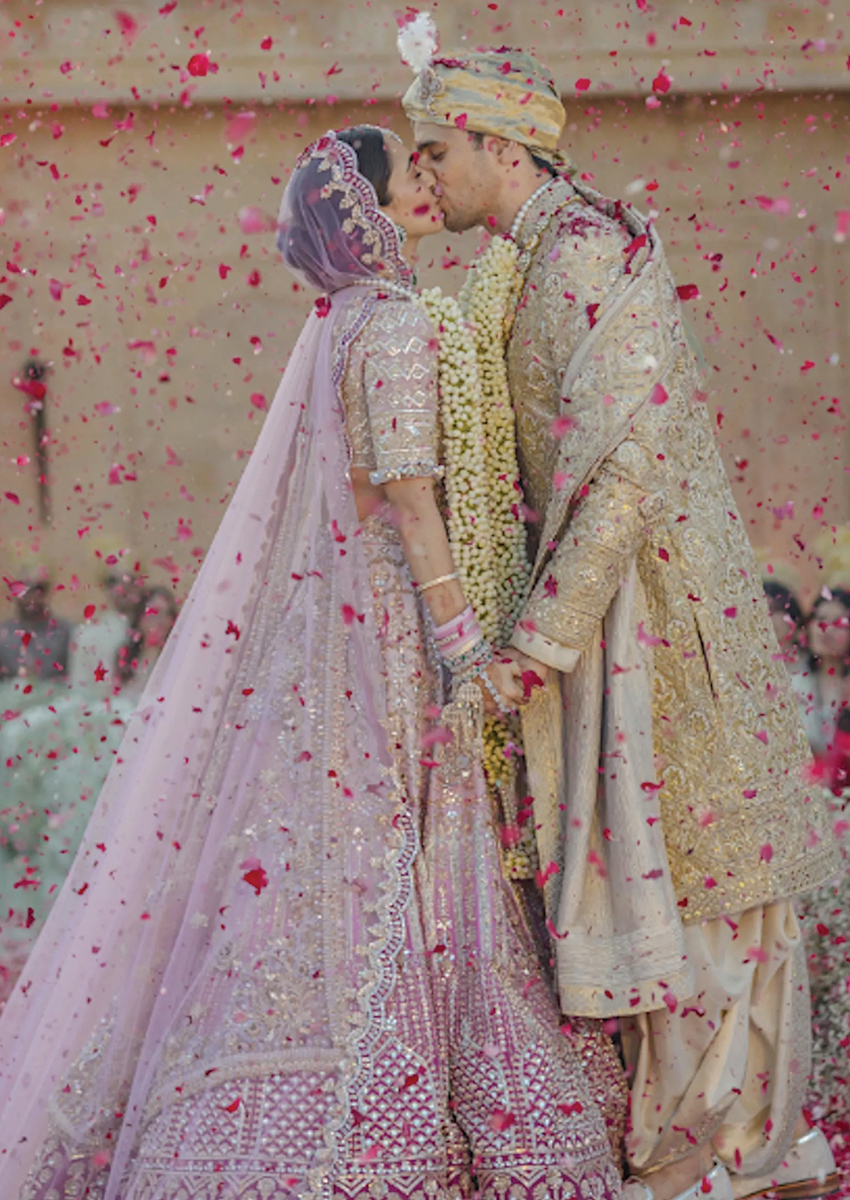 The newlyweds arrive at Delhi Airport
Not too late after the most glamorous wedding of the year had finished, Kiara and Sid were spotted at the Delhi Airport and we can't get over the cuteness. 
At New Delhi airport, the couple appeared breathtaking as they twinned in traditional crimson ensembles. Kiara regarded her look as a new bride in a crimson kurta set with a plunging neckline. She left her hair open and sported sindoor, mangal sutra, and bangles. alternatively, Sidharth looked dapper in a red kurta, and white pyjama and paired his outfit with a multicolored embroidered shawl.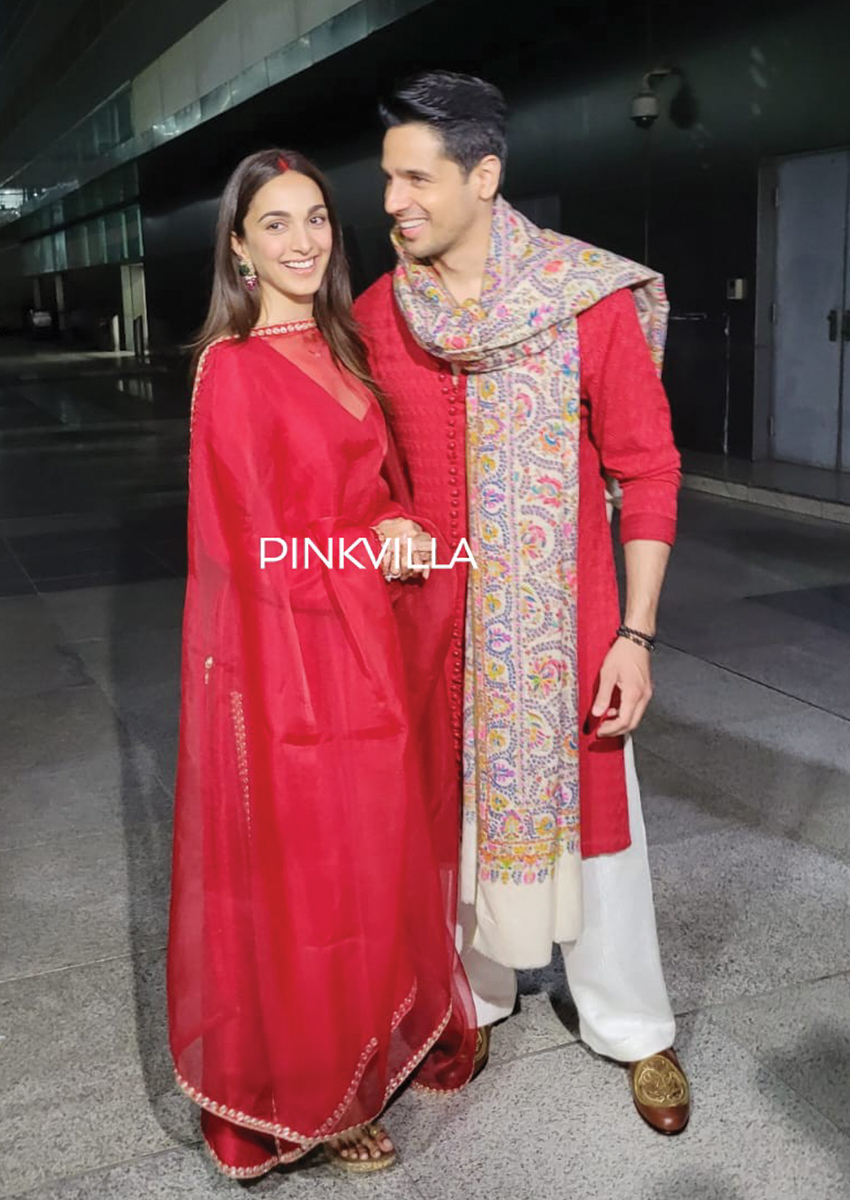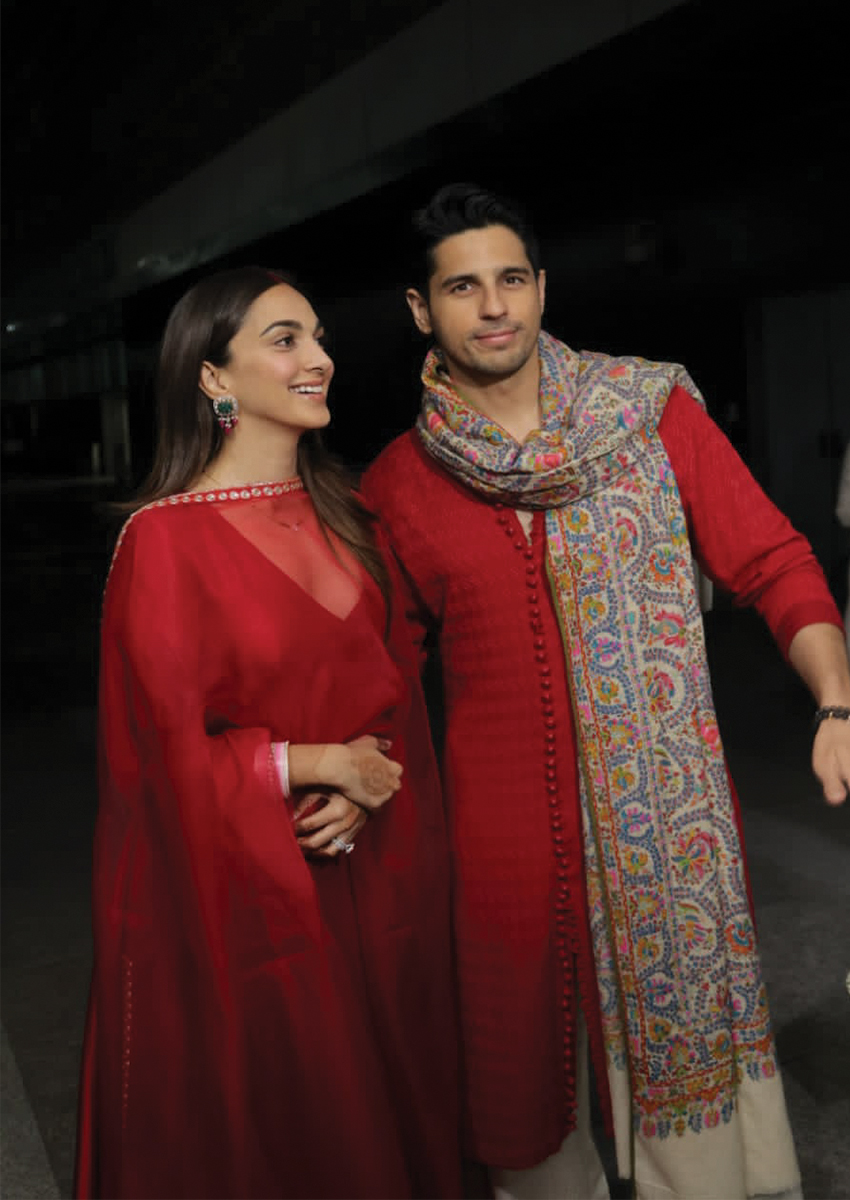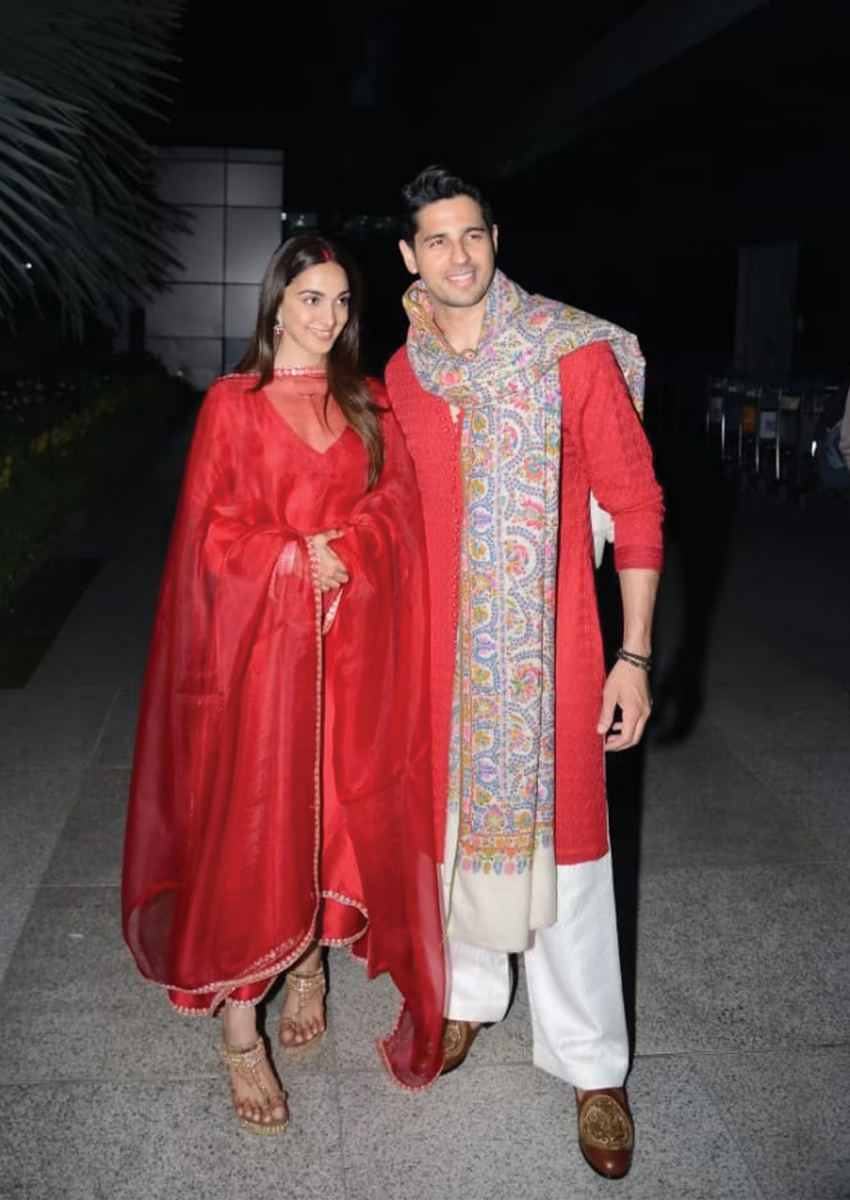 Getting ready for the star-studded reception in Mumbai
The paparazzi noticed Kiara and Sidharth as they arrived at Kalina airport in Mumbai. The couple flew in from Delhi wherein they had been spotted earlier. The Shershah actress kept her look easy yet fashionable in a yellow and white ethnic suit, while Sidharth kept his look casual in a white kurta pyjama. The couple arrived in Mumbai, a day beforehand of their huge wedding reception in Mumbai on Sunday, February 12. They were seen strolling hand-in-hand and posed for the paparazzi.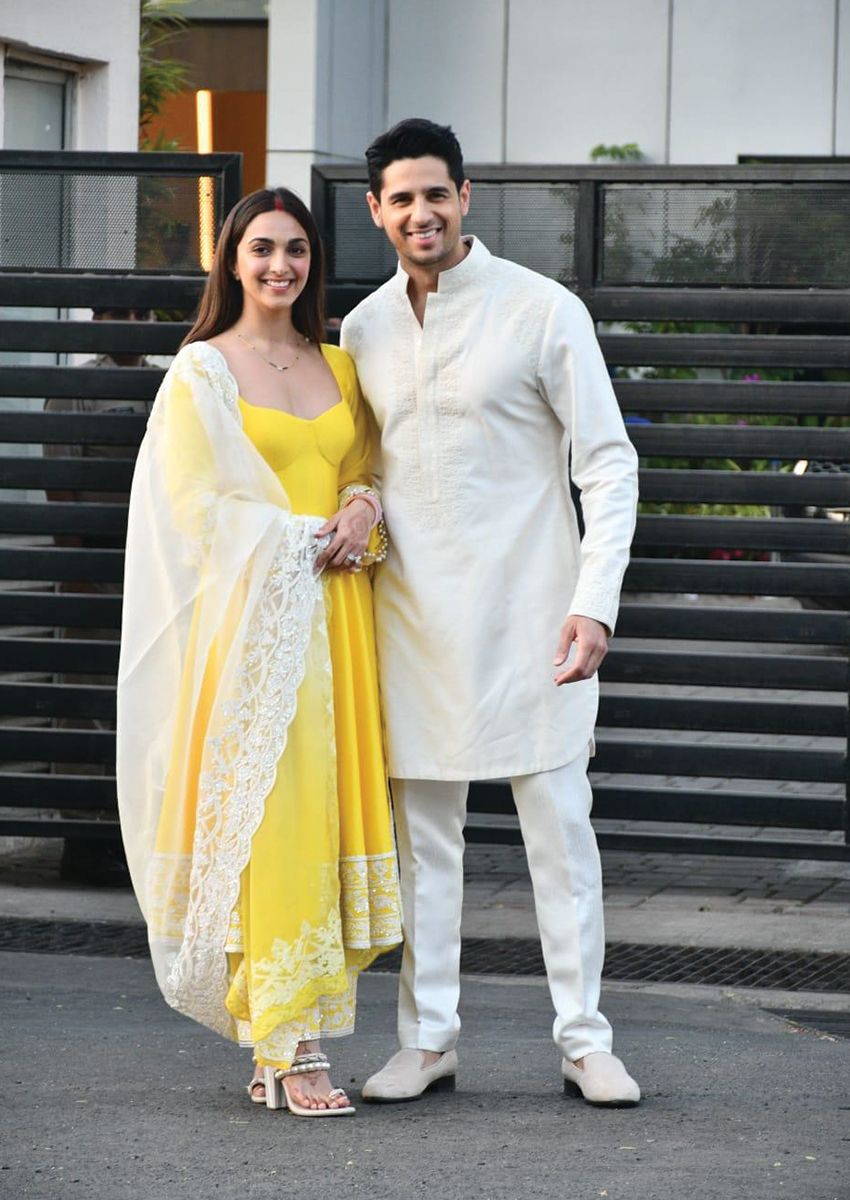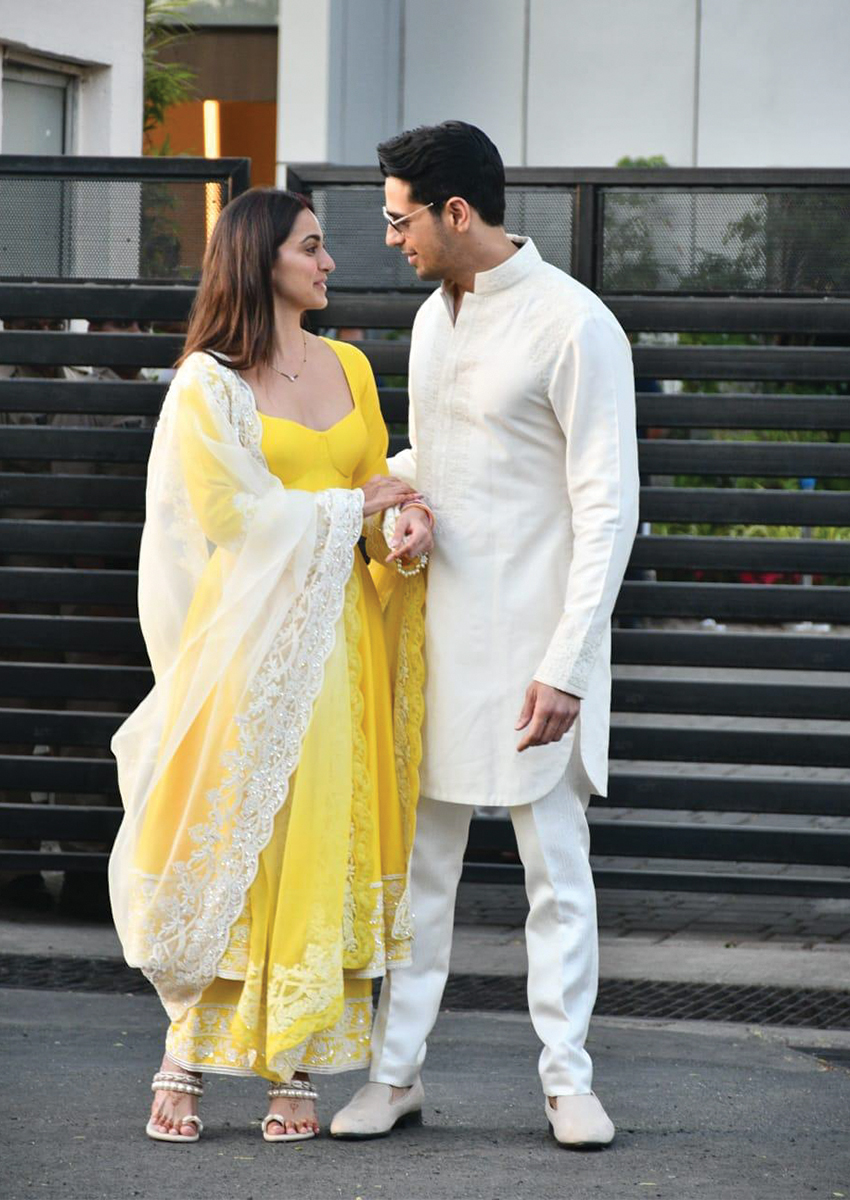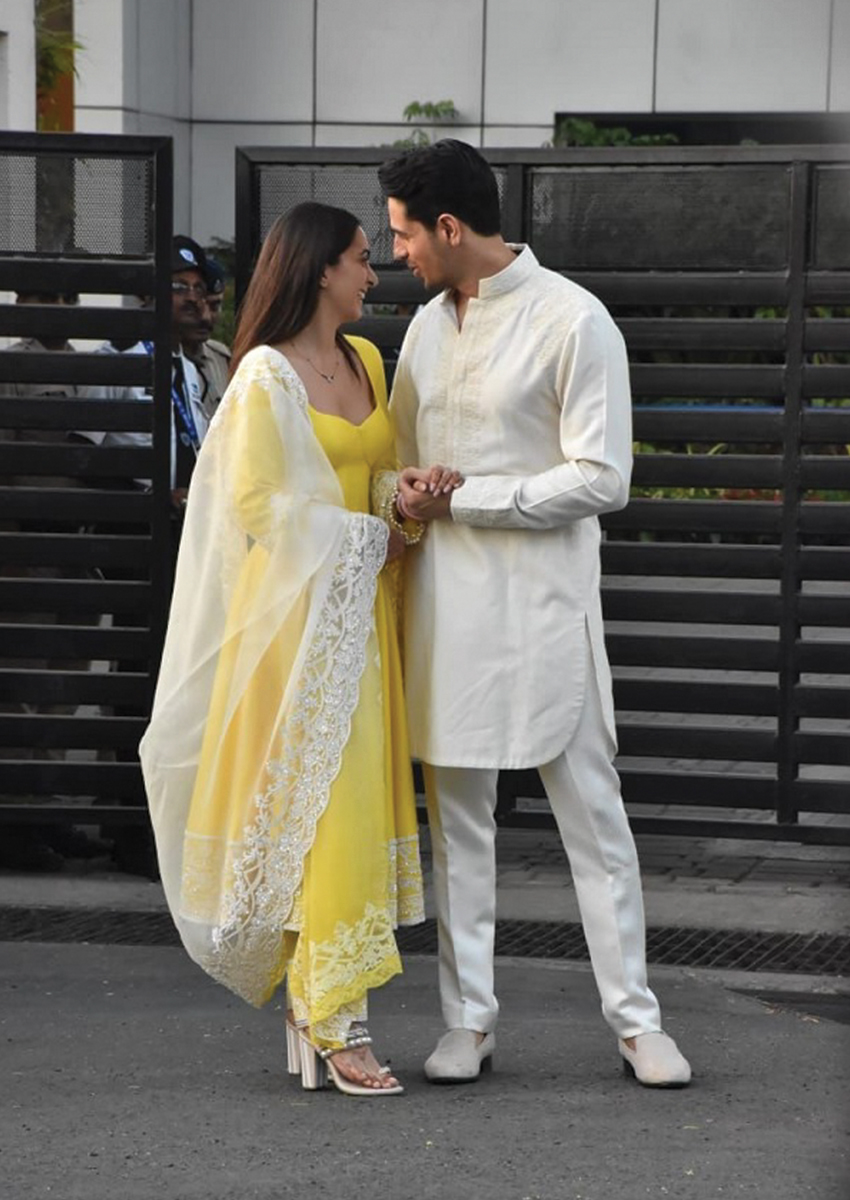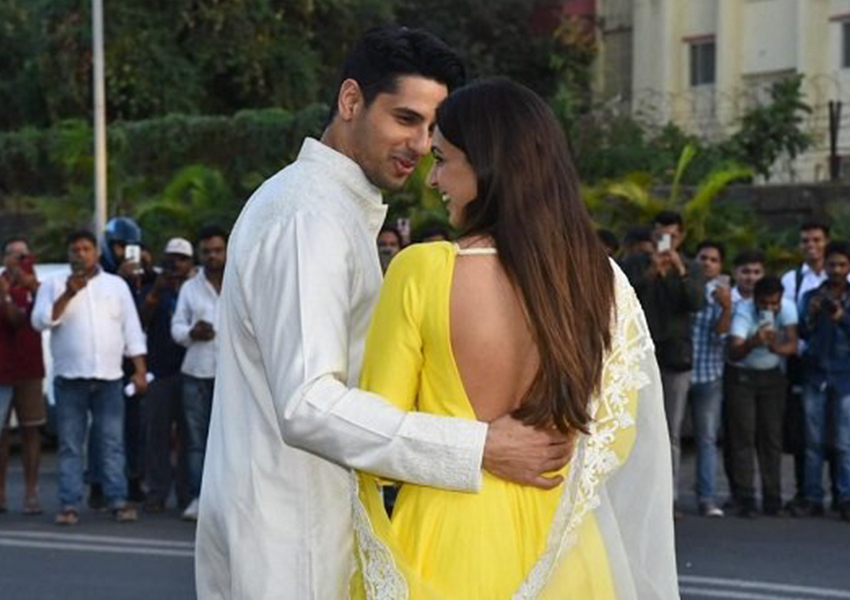 An extravagant soiree of a Reception
Couple Kiara Advani and Siddharth Malhotra hosted a star-studded reception in Mumbai. After a relatively intimate nuptials, everyone reveled and danced the night away at The St. Regis Mumbai.
Kiara wore a black and white dress with a very Morticia Adams skirt – but her jewelry added a pop of color and made her look very different and opulent! The couple wore Manish Malhotra. Kiara's satin and velvet dress had a long train, and she accessorized her look with an emerald and diamond necklace. Sidharth elevated his style in a sequin jacket paired with corduroy pants.
A lot of B Town celebs attended the wedding and all of them were decked out to impress! We are still going gaga over the outfits these actors and actresses pulled out for this star-studded reception.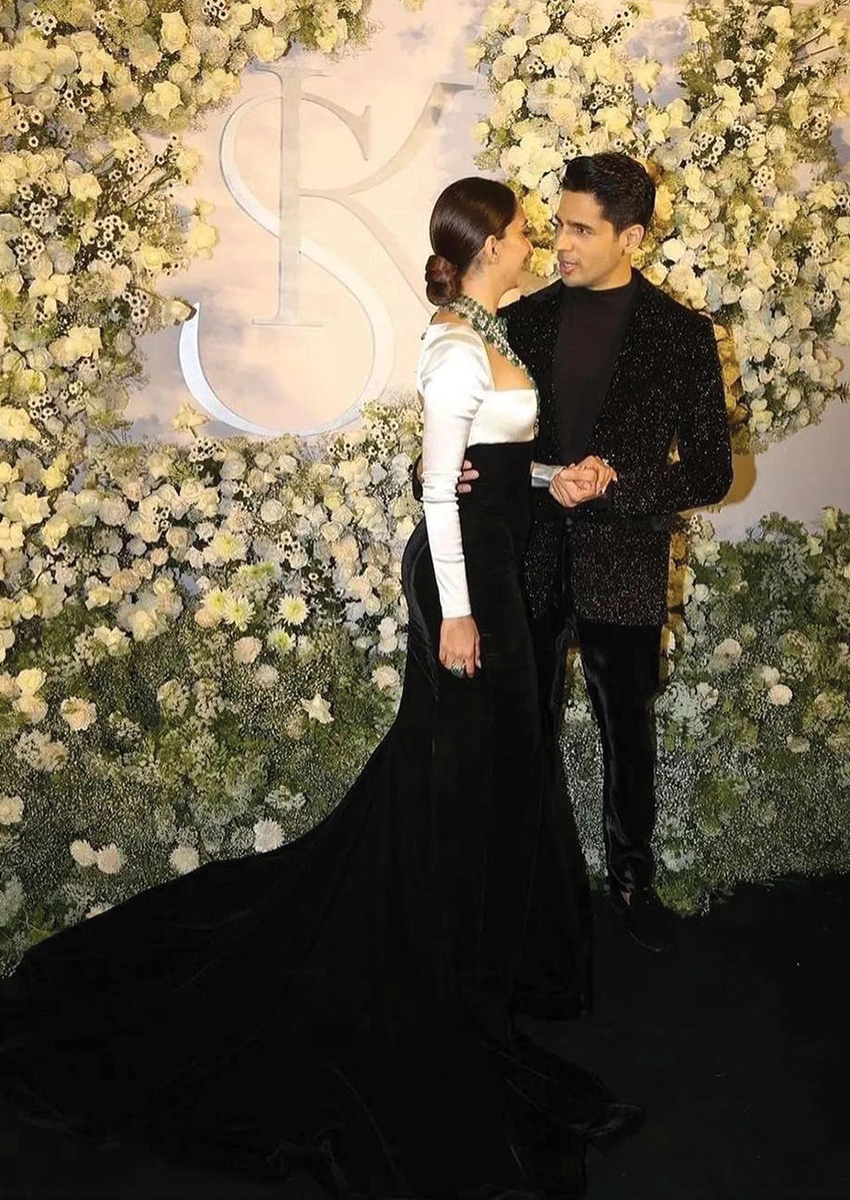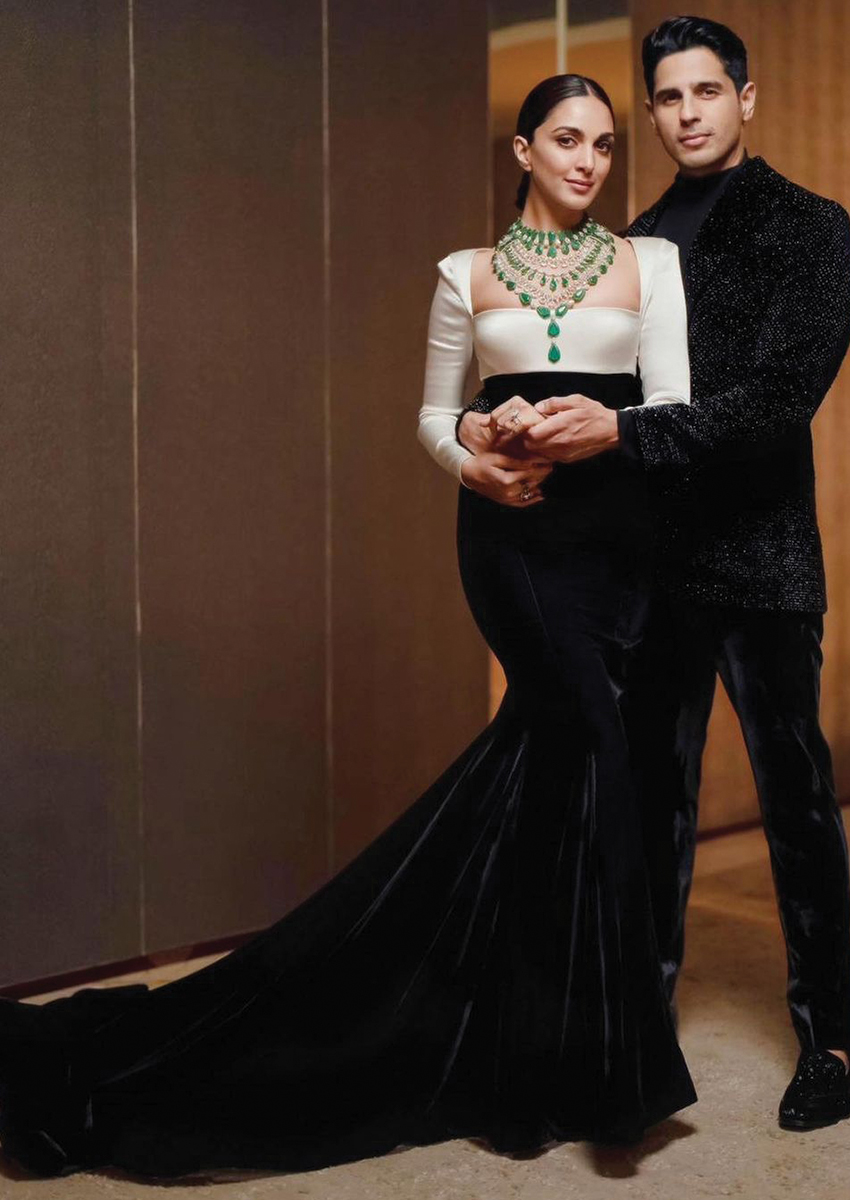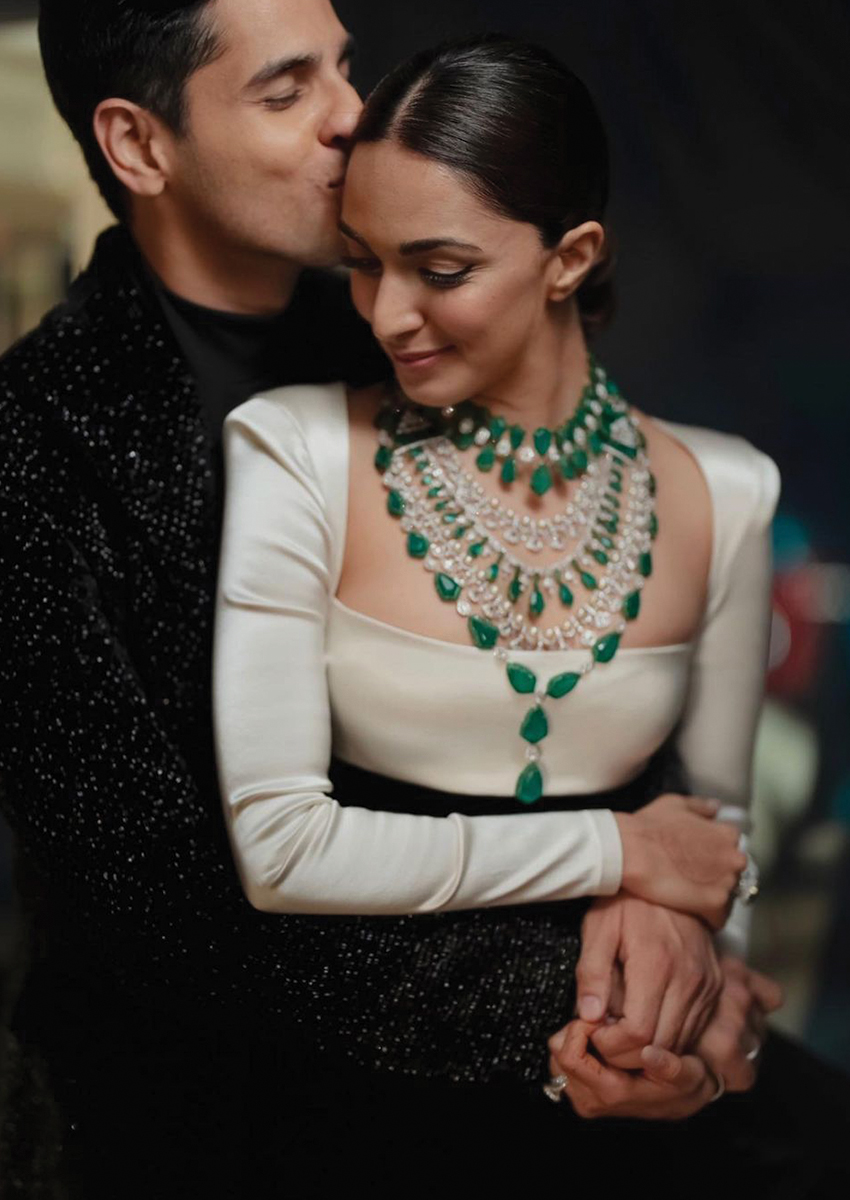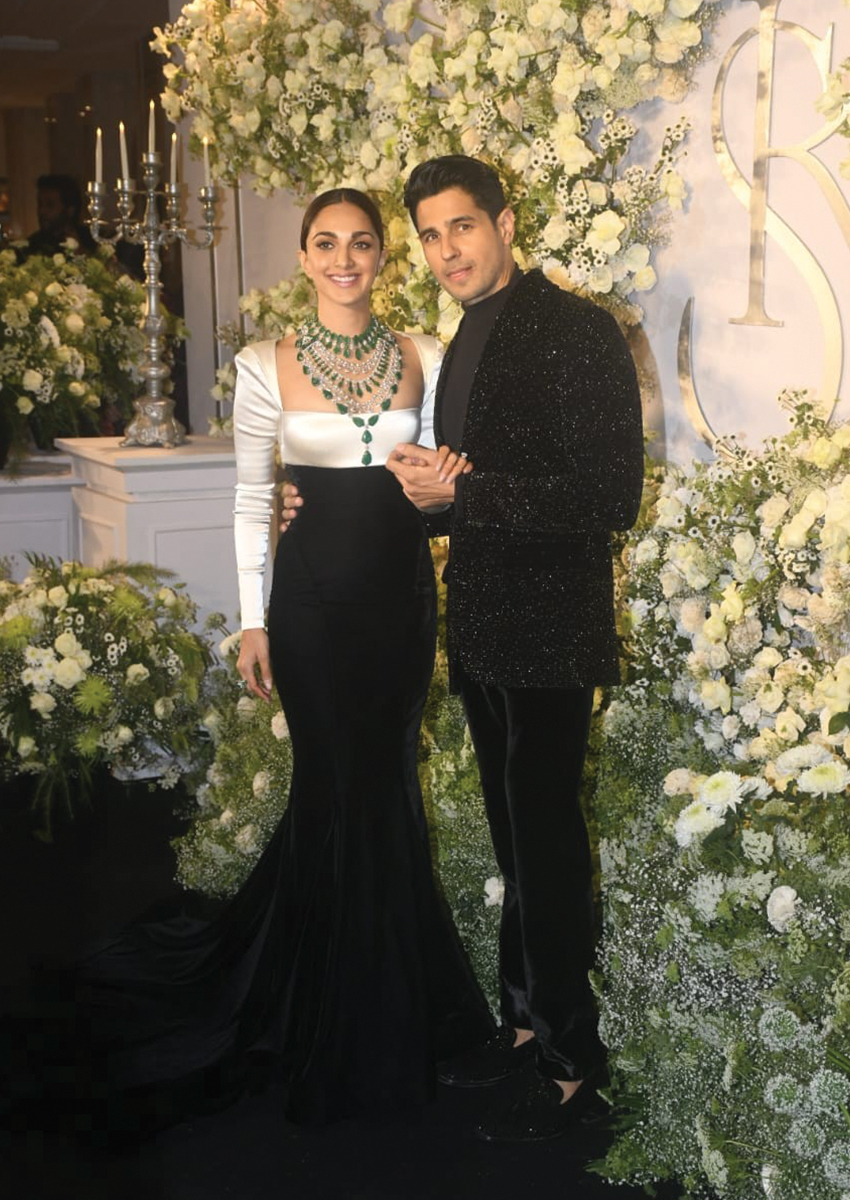 These are all the key details that you'll need about the most talked about wedding of the year! We hope we've got your creative juices flowing and you're just as excited and still gushing over Sid and Kiara's wedding pictures as we are.
And if you want any help planning your wedding, reach out to us at (+91) 8800093444 or email us at [email protected] or visit our website at www.getyourvenue.com