Your wedding is a key moment in your life and everyone wants to have a wedding be an amazing experience for their guests and a core memory that they can reminisce on. Every couple wants to be wed in luxury and grandeur, and the way to do that is with a luxury cruise wedding!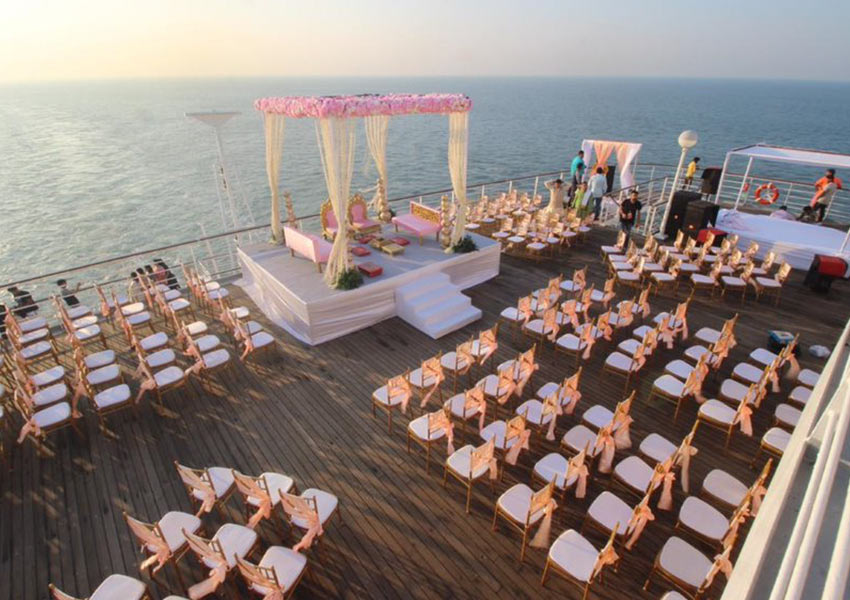 Get hitched together on the high seas, among the salty ocean breeze with the blue waves crashing around you. Cruise weddings offer scenic vistas, exceptional services, and grand destinations to turn your wedding from an event to an experience. We are sure your wedding will be a trip you'll always cherish and remember.
The cruise experience is one of exclusivity and opulence, you can even sneak a mini honeymoon on one of the destinations of your cruise. The celebration will rage on for more than a day as you travel the seas and spend some quality time with your spouse. We have a couple of cruises in mind for your luxury cruise wedding.
Cordelia cruises
The Cordelia cruises 'Weddings on Waves' package is an experience for the bride and groom and their families to celebrate their grand day in the most opulent way. They offer a wide range of destinations to choose from, Lakshadweep, Sri Lanka, Goa, and Diu on their The Empress cruise liner. The liner is jam-packed with the most exquisite amenities to make your journey a luxurious affair, with bars, restaurants, gyms, a pool, and luxury spas! And you won't ever get bored with their live shows, movie theatre, and fun-filled children's play area.
Wake up to a new scenic tropical paradise each day as you travel the seas partying like there's no tomorrow. They also have a wide range of customizations you can make to their 'Weddings on Waves' package to better suit your needs.
Jalesh Cruises
The star cruise liner Karnika is a multi-destination cruise line catering more to the Indian audience but comes with a huge range of exotic activities, adventure shows, and entertainment options with critically acclaimed hospitality on the Arabian sea. It is a great cruise liner to showcase Indian food, hospitality, and culture to your guests while celebrating the most memorable day of your life.
Silver Seas Cruise
Feel like getting married on international waters, then the Silver Seas cruise is your ideal choice. They have liners that travel to more than 900 destinations spread across the whole globe. If you want your small intimate wedding to turn into a Jules Verne book, then this cruise liner is for you! With a highly personalized luxury travel experience, your wedding will sound like a dream to anyone who hears the story.
Getting married on the seven seas sounds straight out of a romance novel. So make that come true by getting married on one of these cruise liners. Turn your wedding into the grand luxurious affair it deserves to be!
And if you want any help planning your wedding, reach out to us at (+91) 8800093444 or email us at [email protected] or visit our website at www.getyourvenue.com.