Delhi is renowned for its amazing modern lifestyle, and the huge list of its perfect venues for weddings, anniversaries, birthdays, conferences and various other events. Every month several cultural programmes, business meetings or family occasions take place in the city and as a guide to them, Get Your Venue serves as the biggest help.
With a team of professionals who are well aware of the localities in Delhi; Get Your Venue considering your budget, number of guests and choice for venue carry on a hunt and then find out the most suitable places for you.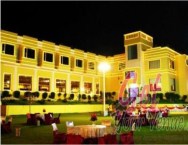 Though most of the banquet halls in New Delhi are equipped with several indoor and outdoor facilities but these still differ from each other in terms of their locality, variety and quality of food, ambiance and other necessary services.
To make your event a mere success without any stress, Get Your Venue presents you a long list of restaurants, hotels, banquet halls, and villa, farmhouses and all types of party halls in Delhi. Depending upon your credentials, we strive to serve you the best.
Most of the party venues in Delhi have a problem of parking. But we make sure that your affair is being celebrated at a venue that has large parking space, features an automatic security system, and is protected with various modern amenities.
For further details feel free to contact our website: GetYourVenue.com